Boycott Law may backfire on Israel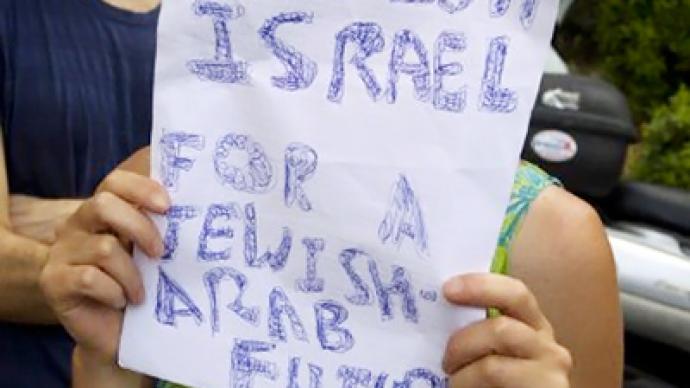 A wave of criticism is rising in Israel over a new bill that outlaws the boycott of Israeli and Jewish settlements on occupied Palestinian territory. Fears are growing that the new law will cause boycotts of products manufactured in all the country.
­Thirty-four law professors signed a petition on Thursday sharply criticizing the Boycott Law, which allows citizens to sue organizations or persons calling for a boycott against Israel or parts of Israel, and forbids the government from funding such organizations. "We read the law carefully, and are convinced beyond a doubt that it is unconstitutional and a mortal blow to freedom of expression and the right to protest in Israel," the letter said, as cited by the Jerusalem Post newspaper. The petition is intended to be forwarded to Attorney General Yehuda Weinstein.Still, the hottest indignation is coming from activist groups boycotting businesses in Jewish settlements on occupied Palestinian territory. The new law subjects these boycotts to legal liability, causing politics and business to collide.Thus, the Gush Shalom peace movement, which has been calling for a boycott of settlement products since the 1990s, petitioned the Supreme Court against the bill on Tuesday. The group alleged that the new legislation violates basic democratic principles. The Supreme Court judges ordered the state to respond within 60 days.Israeli Prime Minister Benjamin Netanyahu faced a stormy session in the Knesset on Wednesday, as he was himself forced to defend the law. Some members staged a protest walk out. Opposition parties have called the law, which was passed in the Knesset on Monday, an attempt by a weakened government to silence the people. Furthermore, there are fears that the new legislation may lead to boycotting products manufactured within the Green Line, not only in the settlements."The prime minister does not know how to distinguish between Yitzhar [Israeli settlement in West Bank] and Beersheba. His policies will cause boycotts of products made in Yokneam and Dimona," opposition leader Tzipi Livni told Israel Radio on Thursday.Omar Barghouti from the Boycott, Divestment and Sanctions Movement in Ramallah, calls the new law a "draconian measure" to hush down basic protest rights."The law does not make our activities illegal. It almost de-legitimizes them in a way that it allows institutions and companies to sue BDS and other boycott activists who are supporting this," the activist told RT, but he added that this law will only increase boycott activists' reach to the West.Omar Barghouti believes that the Boycott Law is the fruit of efficient boycott campaigning, which has started to reach the mainstream in the West, South Africa, Brazil and other countries."So they [Israel] are really aligned about this non-violent, peaceful type of resistance that they have not yet developed sufficient weapons to counter," concludes Barghouti.