Bout testimony coerced, rights breached – NY judge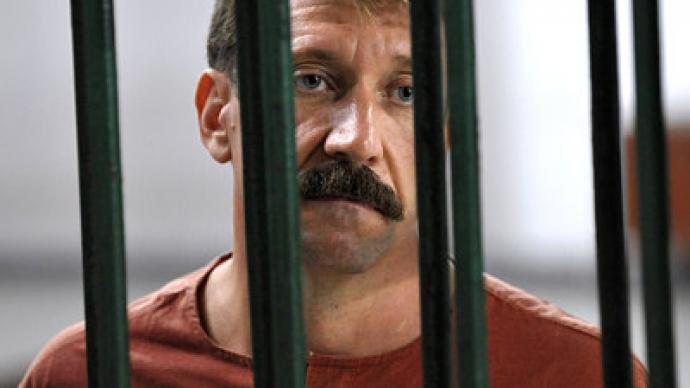 The prosecution's position in the case of Viktor Bout, who is standing trial in the US for alleged weapons trafficking, has sustained a serious blow after the judge ruled that statements Bout made before his arrival in the US be suppressed.
Thai police allowed serious proceeding violations when they did not allow Victor Bout, the Russian gun smuggling suspect, to meet his defense lawyer, and testimony from the first interrogation cannot be taken into account by the court, a federal judge from New York says.When Bout was arrested in Thailand in 2008 the US intelligence agents attempted to coerce him to co-operate. Such was the resolution of Shira A. Scheindlin, a judge for the Southern District of New York, who now heads the process on this internationally-reported case.The judge insists the first testimony that was obtained following the Bout's arrest is not legally-admissible evidence as the suspect was under pressure and could not consult with his lawyer, which is also illegal.Victor Bout was arrested in a foreign county, in a rough manner, was strip-searched and was pressured from the very beginning, the judge stated, while his personal computer and private documents were seized without a formal order. Bout could not meet with his lawyer or contact the Russian embassy, which is not acceptable under international law.Later, the US officers had likely threatened him with the "heat, hunger, disease and rape" in a Thai jail if he did not co-operate with their questioning.Scheindlin also said she found that the agents were not credible when they denied insinuating that Bout might return to the United States with them immediately if he co-operated and waived extradition, and when they denied telling him he would face hardships in Thai jails where he would be abandoned if he did not cooperate with them. She said Bout's version of the interview was more credible than that of two agents who testified.Bout's attorney, Kenneth Kaplan, was pleased with Wednesday's ruling, but said the statements in question were not in themselves incriminating. Bout had "not admitted to anything that was charged in the indictment," Kaplan said.The Wednesday ruling may affect the prosecution's grounds in the case and bolster the defendant's case. Bout was extradited to the United States in November last year to face trial in a New York federal court. He had been arrested in Bangkok in March 2008 in a sting operation by US agents posing as arms buyers from the Revolutionary Armed Forces of Colombia, known as FARC and considered by the United States to be a terrorist group.According to court documents, Bout offered to sell the agents advanced man-portable surface to air missiles, as well as approximately 5,000 AK-47 assault rifles.In court documents, prosecutors have accused Bout of dealing arms since the 1990s to dictators and conflict zones in Africa, South America and the Middle East since the 1990s.
You can share this story on social media: