Bomb blast hits Italian school: at least 1 dead
Published time: 19 May, 2012 08:27
Edited time: 19 May, 2012 14:52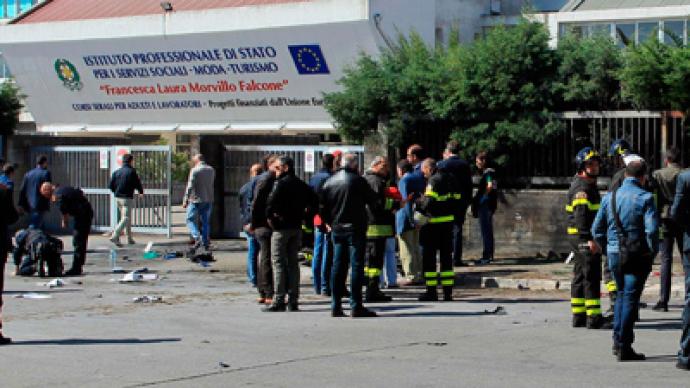 A Bomb blast has struck a school in the southern Italian city of Brindisi, killing at least one student and injuring several others. No one has claimed responsibility for the explosion although initial suspicions point to the local mafia.
Local authorities report that three incendiary devices were planted in a trash bin in front of Morvillo Falcone school and were detonated as students arrived for class.
One of the injured is currently in critical condition in local Perrino hospital.

"I was opening the window when I felt the force of the blast. I saw children thrown to the floor, blackened by the explosion, their books on fire. A truly terrifying scene. Who could've have done such a thing?" said a witness of the blast to Italian newspaper "La Repubblica."
The explosion went off at around 8am local time (06:00 GMT), causing widespread panic among the students arriving at the school.
The building has now been evacuated and cordoned off for police investigation.
Security has been stepped up throughout Italy after a recent shooting which wounded a nuclear energy official. The anarchist group "The International Revolutionary Front" who claimed responsibility for the attack has also threatened to attack a number of key politicians including Italian PM Mario Monti.
The spiraling economic crisis and harsh austerity measures have raised fears of an increase in political violence across the country.