Suicide bomb blast strikes Syrian military compound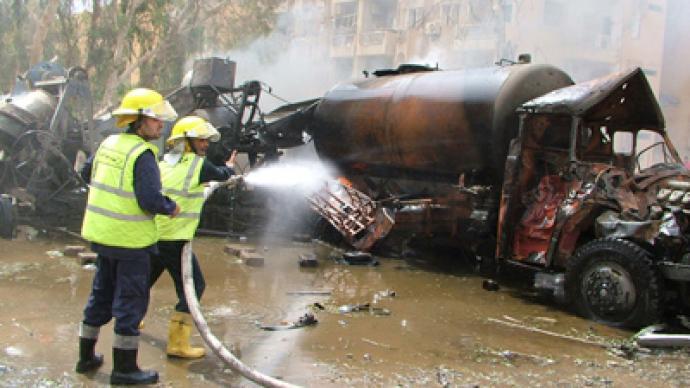 A suicide car bomb explosion has ripped through a military compound in the Syrian city of Deir el-Zour, killing nine people and injuring 100. It is the latest in a string of blasts targeting regime military facilities in the embattled country.
Syrian State TV has said there were scores of wounded and showed footage of the damage the blast had caused to surrounding buildings from the parking lot in which it was set off.Foreign Ministry spokesperson Jihad Makdissi tweeted after the event that there were "7 martyrs and 100 injured in the suicide explosion," adding that 500kgs of explosive were used. He also stated that the UN observers currently stationed in the city had visited the site of the blast.State-run news agency SANA branded the explosion as a terrorist attack that struck a Military Constructions Institution's car park. However, the Syrian Observatory for Human Rights said the explosion struck close to the Military Intelligence Directorate and Air Force Intelligence and was followed by gunfire.No group has come forward claiming to be behind the explosion, but the Syrian opposition has laid the blame at the feet of the Assad regime.The Syrian National Council accused the government of attempting "to reap chaos and trouble" after failing to "repress the revolution of the Syrian people."The most recent bombing struck an intelligence building in Damascus on May 10, killing 55 people. A group calling itself the Al-Nusra front said it was behind the attack and claimed it was in response to regime force attacks on residential areas. UN Secretary-General Ban Ki-moon said on Thursday that he believed Al-Qaeda was behind the attack on May 10.The joint UN-Arab League ceasefire that was implemented five weeks ago has been dogged by reports of violence from both the opposition and regime forces. The UN has sent international monitors to Syria in an effort to bring the spiraling violence under control.However, the head of the UN observer's mission said no number of monitors could curb the violence until both sides agree to negotiate.The Syrian conflict began 13 months ago as an uprising against President Bashar al-Assad and has become increasingly violent and militarized over the past months.
You can share this story on social media: