Twin explosions hit Ankara ahead of ceasefire with Kurdish separatists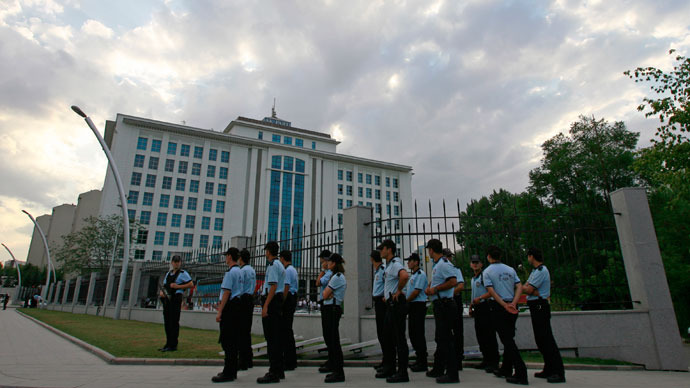 One person was injured as the Turkish Justice Ministry and the ruling AK Party's headquarters were both attacked Tuesday.
The AK Party building was hit by a rocket-propelled grenade on its seventh floor, while two hand grenades were thrown at the ministry's parking lot, according to local media.

Interior Minister Muammer Guler told the press that no one was wounded at AK's headquarters, though a Justice Ministry employee's spouse was slightly injured in the second attack.
The assault on the AK building shattered windows but did not cause any serious damage, local media report.
Turkish Prime Minister Recep Tayyip Erdogan was out of town at the time on a trip to Denmark.
Police have reportedly made two arrests in relation to the incident.

Far leftist group the Revolutionary People's Liberation Party/Front (DHKP/C) on Wednesday claimed responsibility for the simultaneous attacks on the Justice Ministry and the AK Party headquarters, local media reports.
The group said in a statement that the Justice Ministry is the symbol of "injustice" in Ankara, and the two buildings attacked are the most heavily-guarded buildings in Turkey. The group claims to have chosen after-work hours to minimize injury to ministry and AK Party headquarters staff, and it had not planned to injure the one person who was hurt in the attack, and even offered sympathy to him and his family, according to local media.
The bombings follow a crackdown on the banned Revolutionary People's Liberation Party-Front in Turkey. The radical left-wing organization, which calls itself Marxist-Leninist, holds Turkey's government to be a tool of US and NATO expansion.
In recent years Turkey has also seen terror attacks by Islamic militants as well as an insurgency fighting for autonomy for the country's Kurdish population.
Turkish officials have been holding negotiations with the Abdullah Ocalan, the imprisoned leader of the Kurdish resistance, with a view to ending a civil conflict that has seen tens of thousands of people killed since 1984. Turkish leaders had warned of the possibility of attacks meant to obstruct a deal.

"We were expecting possible sabotage attempts," said Justice Minister Sadullah Ergin.

You can share this story on social media: