At least 21 killed in suicide attack on restaurant in Kabul diplomatic quarter
At least 21 people, mainly foreigners were killed in a suicide bomb attack which targeted a popular Lebanese restaurant in the diplomatic quarter in central Kabul, police said. The IMF confirmed that one of its representatives is among the dead.
The International Monetary Fund (IMF) confirmed that its resident, Wabel Abdallah, a 60-year-old Lebanese national was one of the victims of the attack.

"This is tragic news, and we at the fund are all devastated," IMF Managing Director Christine Lagarde said in a statement.
Two British nationals were among those killed in a popular restaurant in Kabul on Friday, the Foreign Office in London said.
"We can confirm the death of a British national and we stand ready to provide consular assistance to the family," a spokeswoman said, declining to give further details.
The US Embassy also confirmed that at least two American citizens were killed in the attack.
A Russian citizen working for the UN mission in Afghanistan was killed in the attack, the Russian Foreign Ministry said Saturday.
The identities of the other victims and their nationalities remain unclear.
The blast hit the Wazir Akbar Khan neighborhood just after dark. Afghans and foreigners were among the dead, said Mohammad Zahir, Kabul's police chief. The nationalities of the foreign casualties were not immediately clear.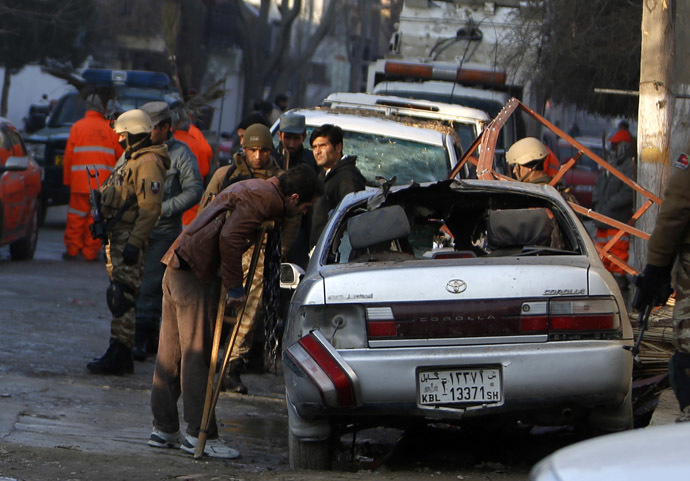 The UN said three of its employees were among those killed, according to UN spokesman Farhan Haq. "Three United Nations personnel, along with a number of those from other international organizations, are now confirmed dead," Haq said in a statement.
The attack started when a man wearing a suicide vest blew himself up outside the Taverna du Liban restaurant. Two more attackers tried to enter the restaurant, however were killed by guards, said Interior Ministry spokesman Sediq Sediqi.
According to witness reports gunfire continued for about 20 minutes after the initial blast. The main road leading to the area was cordoned off.

The restaurant is popular with Afghan officials, foreign diplomats, aid workers and business people.

The Taliban claimed the responsibility for the attack saying they deliberately targeted foreigners, and in particular Germans.

"Based on primary reports of this attack a number of high ranking German officials were killed," a Taliban spokesman said as cited by Reuters.

This is the the second bombing in less than two weeks in Kabul. On January 4, the Taliban claimed responsibility for the blast at the entrance of a predominantly American military base Camp Eggers. No injuries were reported.
You can share this story on social media: