Blast in Iraq kills three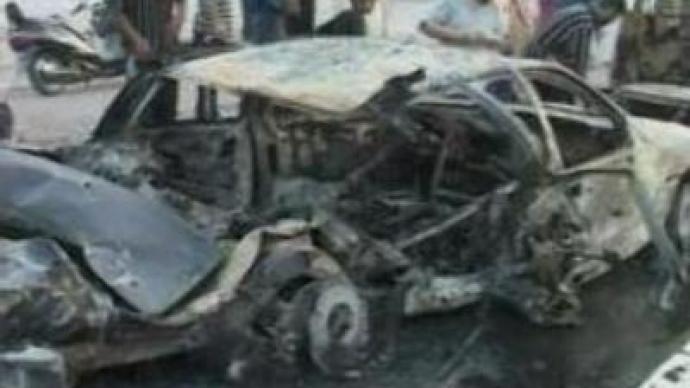 Three people have been killed and at least seven injured in a blast at a petrol station outside Iraq's Sadr City. Local residents have said that missiles from an American forces helicopter caused the carnage as drivers queued for fuel.
An Associated Press television team saw the twisted wreckage of burn-out vehicles and blood on the ground.Some of the injured were taken to the nearby Ali Imam hospital.Meanwhile, with reports of U.S. President George Bush looking at ways of reducing troop numbers in Iraq by up to 50 % by next year, Radical Shi'ite cleric Muqtada al-Sadr has made his first public appearance in months.In a speech during Friday prayers, Muqtada al-Sadr renewed demands for the withdrawal of the U.S. forces from Iraq.Muqtada al-Sadr went into hiding four months ago at the start of a U.S.-led security crackdown in Baghdad. His vociferous anti-American hard-line views meant he was a prime target for security forces.
"We reiterate our demand for the withdrawal of the occupation forces, or the creation of a timetable for such a withdrawal. I call upon the Iraqi government not to extend the occupation even for a single day,"
said Muqtada al-Sadr. While the call for a U.S. pullout was nothing new, al-Sadr also peppered his speech with nationalist overtones, criticising the government's inability to provide reliable public services.He also condemned fighting between his Mahdi Army militia and Iraqi security forces.
''I advise the brothers in Mahdi army to turn to peaceful methods if they are attacked by weak-spirited people,"
he noted. His reappearance comes three days before U.S. and Iranian officials hold unprecedented talks in Baghdad to discuss the crisis in Iraq.With the situation exacerbating itself on a daily basis, his return will not be a welcome sight to a U.S.-lead administration fighting to crack down on violence and broker political compromise in the country.
You can share this story on social media: