Bomb blast rocks Syrian TV station, three people reported injured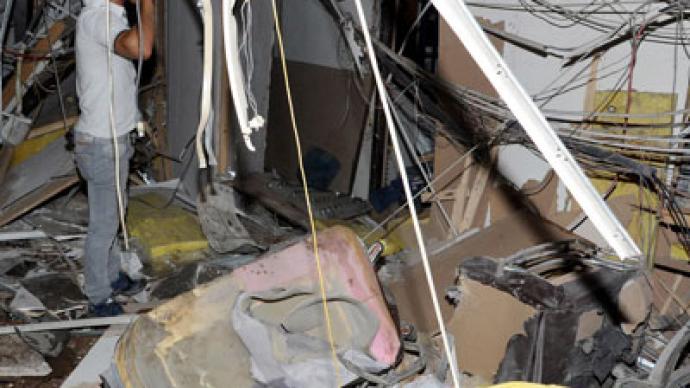 A bomb has detonated at a state-run television and radio building in the capital of Damascus, Syrian TV reported.
The explosion occurred on the third floor of the building, which houses administrative offices including the station director's, RT Damascus correspondent Oksana Boiko said.The station's studios were frequently used by foreign journalists for live broadcasts from the city, she said. Three people were injured in the blast."It is clear that the blast was caused by an explosive device," Syrian Information Minister Omran al-Zoabi said. "Several of our colleagues were injured, but there were no serious injuries, and no dead.""Nothing can silence the voice of Syria or the voice of the Syrian people," al-Zoubi added while inspecting the damage at the TV building. "We have a thousand locations to broadcast from."The station continued to broadcast in the wake of the bombing.The pro-government private Syrian TV station Al-Ikhbariya broadcast pictures of employees inspecting damage in the building and tending to a wounded colleague, the AP reported. The images below show destroyed walls, overturned desks, blown-out cabinet doors, broken glass and dangling electricity cables. Opposition forces mounted an assault on Aleppo's main television and radio station on Saturday, August 4. The rebel gunmen failed to capture the building.Seven journalists and workers were killed in June when an armed group attacked the headquarters of Syria's al-Ikhbaryia TV.
You can share this story on social media: