Series of explosions kill 3 outside Cairo University (VIDEO)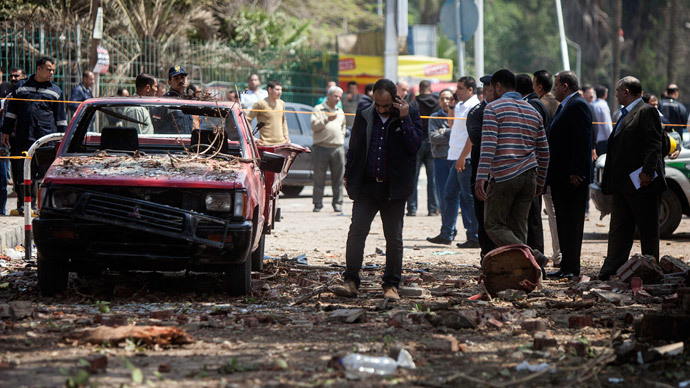 A third blast has gone off near Cairo University, killing at least one. It follows two explosions which killed a police brigadier-general and a civilian during student protest.
At least four other police officers were wounded in the blasts, which went off near a parked police vehicle.
Interior ministry told me: blast due to IEU planted in trees,slain officer was not directly targeted despite being head of investigaitons

— Bel Trew - بل ترو (@Beltrew) April 2, 2014
Officials said that the twin bombs went off within seconds of each other. The interior ministry said the bombs were hidden with other officials saying the devices had been concealed in a tree between two security posts. The third explosion appeared to be a lot smaller than the previous two bombings and there is still no definite word on casualties from the latest blast.
The moment of the second explosion has been caught on tape.
Militant group Ajnad Misr (Soldiers of Egypt) claimed responsibility for the attack. The fairly new militant group said it was targeting senior security officers guilty of "mass killings," likely referring to the authorities' crackdown on radicals.
Egyptian state television said that the double explosions happened outside Cairo University's engineering facility during clashes between security forces and students. It described the devices as crude and homemade.
Egypt's security forces have been the target of frequent attacks since a military backed coup toppled President Mohamed Morsi last July. Although attacks have mainly been on the restive Sinai Peninsula, they have begun to spread to major urban areas like Cairo.
Morsi's supporters have staged regular protests against the military appointed government, which the authorities say have killed almost 500 people, most of them police and soldiers.
The current government in Egypt accuses the Islamist Muslim Brotherhood group, to which ousted President Morsi belonged, of being behind many of the attacks against the military – a claim the Brotherhood denies.
The Muslim Brotherhood has been outlawed and was declared a terrorist organization in December last year.