Bye-bye blackbirds: Feathered fatalities forewarn Doomsday?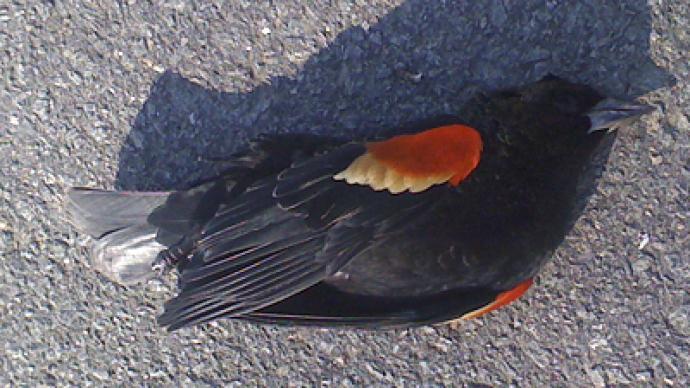 Dozens of blackbirds have fallen dead from the sky in Arkansas, a phenomenon that many are taking to be a sign of impending disaster, even sparking fears that Doomsday is approaching. However, locals blame festive fireworks for the phenomenon.
The first reports about dead birds raining from the skies in the town of Beebe came around 7pm local time. Dozens of birds fell dead covering the roofs, sidewalks, streets and fields. Police and animal welfare workers were busy through the night removing the birds and estimating the death toll. The incident coincided with the beginning of the noisy New Year's Eve celebrations in local neighborhoods. The police had banned local residents from setting off commercial grade fireworks, although it has not been definitely proved that fireworks were to blame.According to some researchers' findings, the loud cracks and booms from celebratory fireworks gave the birds such a scare that they crashed into homes, trees and each other before dropping dead.Last New Year's Eve the town of Beebe grabbed the world's attention and sparked media frenzy after thousands of dead blackbirds were found on its streets. The blackbirds' deaths raised speculation that the event might be an omen marking the beginning of the apocalypse and drew crowds of conspiracy theorists to the town. Many, however, believe that the birds could simply have been poisoned.
You can share this story on social media: