Kyrgyzstan revolution is run by rumors - witness report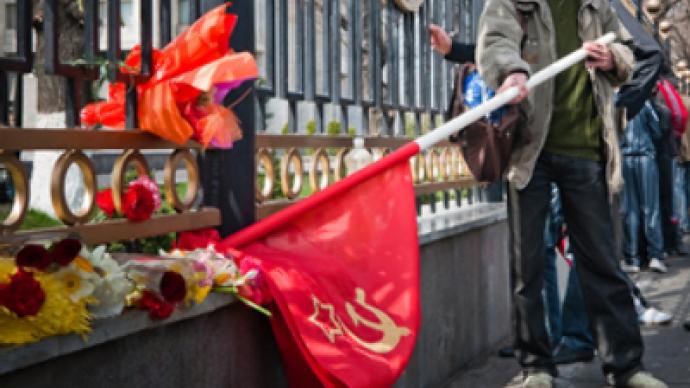 Well known photographer Sergey Mukhamedov visited riot-torn Bishkek where he learned that most of the news is not true.
Bishkek, the night of April 9. Me and Ilya Varlamov are in the airport of Manas, trying to get through by phone to a journalist we know to give him cash sent from his editorial office (read Ilya Varlamov's illustrated report about this trip here). His money is either all spent or was taken away. It's not surprising, the web is full of shots of the horrific events, and there are rumors taxi drivers are now charging up to five hundred dollars to drive into the city center. Curiously enough, mobile phones are working, but the connection with our colleague just doesn't go through. A taxi driver is asking for 600 roubles (about $20).
- How much do you want for a day?
- A hundred bucks.
Surprised by an unexpectedly low rate, we take the cab without bargaining.
- What about the curfew restrictions? It's still dark!
- The is no curfew, never been one, – says our driver Almas. – They said they imposed it, but there's no one to execute it – there's no authority.
Cars are scarce, we cross intersections while going through a red traffic light, no one is seen in the streets. The situation is this: no Internet in the city, no way to add money to your mobile account, no way to fill your car with gas.
Public transport has been suspended. Three local TV channels worked on and off all day.
- Who controls those channels – the president or the opposition?
- No idea.
- Isn't it clear from their coverage?
- Hell no, they all say the same.
Almas tells us of marauders who ride across the city in buses armed to their teeth and rob all they can, keeping people in fear.
- Did you work during those days?
- Sure I did.
- Weren't you afraid?
- I went to the center, saw a crowd, so I turned around and drove to the outskirts. All the trouble is in the center.
We ask to take us to there, to the trouble. He stops at some burned out cars and an APC, we take some night shots. Suddenly we hear yelling and whistling, some people are waving bats and climb over the fence of a building next door. The driver hits the accelerator and we manage to jump into the screeching car on the run.
- Who was that?
- Marauders, of course! There's a horde of them, they are all nuts!
Locals tell us a story about the APC. Special Forces came in the armored troops carrier and ran to the square where all hell was breaking loose, forgetting the key in ignition. Marauders used the moment to get in and start driving, but did not know how to move backwards and hit a house. One of them used to be in the military, he tried driving but was killed by a shot from a grenade launcher.
- But it's not even damaged!
- Maybe they've shot somewhere down here…
- It stands with its rear end to the house, what reverse are you talking about?
- No, it's not the rear – it's the front!
The house turns out to be the building of the parliament.
We drive down to a burned out gas station, two of them were devastated by fire in one night, we are told. On the spot we discover only one car across the road from the station that suffered some damage. Rumors rule the city.
All buildings are covered with posters "Biz el menen" – "We are with the people". Some windows sport white tape glued criss-cross. Shop-entrances are adorned with guards wearing white and red armbands. We stop by one of the malls. The men are drinking.
- What do those armbands mean?
- Whites for protecting our property, reds for public order squads.
- Do you have any weapons?
- What for? We are many! – answers the crowd of drunk proprietors.
The city is waking up, the first trolley bus is driving down the street. The central shopping center, TSUM, reported burned and ransacked by the news media, stands there totally intact, covered with iron sheets from all sides. The guards there refuse to answer our questions without their boss's permission.
- Is he not asleep?
- No one has slept here for the past two days. Come over!
The head of the shopping mall security is found in his office.
- How did you manage to protect such a big building?
- Everyone new beforehand that this riot would occur. TSUM survived the previous revolution without any losses, too. In 2005 we already knew it was not the last time. So shops started to reduce their glass surfaces, putting bricks into some windows. We had the defense scheme worked out: barricade the entrances, put up iron sheets around the building and guard the perimeter.
- All in one night?
- Yes, almost all the staff was here.
- Do you have weapons?
- To shoot kids hiding behind refrigerators? They are all youngsters, aged 14 to 30. Their mob is armed with clubs and first of all rob alcohol shops, they got plastered, the aggression aggravated, then they robbed "Arsenal" shops (arms stores – RT), and they were given some weapons, too..
- So marauders were initially armed?
- Unfortunately so.
- So how can you handle a drunk armed mob?
- With words only. We were standing in front of them, talking into loudspeakers in the Kyrghyz language, saying that all the goods were taken away, that we were from the same lot as them, only doing our job, so please do not take away our incomes.
- Why in Kyrghyz?
- Because there was no one from Bishkek there, all of them came from provinces.
Stories of protecting private property are all the same: talk and convince the crowd.
- What triggered the revolution?
- They've raised the prices for electricity!
- Why is everyone talking about electricity here? Everyone's telling me it was 75 local cents, and now it's one and a half som (Kyrghyzstan currency – RT). So what?
- See, an average salary in Bishkek is 3000-5000 som, and in the provinces they get nothing. For a 2-bedroom apartment with four people living in it I pay 2350 for hot water and heating alone! Altogether my commodity payment is 3200 per month, a whole salary!
We understand that today our driver will earn his monthly income.
The journalist we know calls us saying, "Take care and stay away from trouble! Yesterday they robbed and devastated TSUM!". We ask whether he left his hotel once to see it with his own eyes. He says, "No, it's way too scary".
The city is awake. The square before the parliament is filling with people. I see two traffic police officers.
- Who's your ruling authority now?
- The Constitution, we swore an oath, – they say and turn their backs on me.
- Yeah, right, – notes a passerby, – they got an order to change into civilian clothes and sit by their offices protecting them. Two days we haven't seen a single policeman out in the streets! Wanna see some bullets in the wall of my apartment?
Igor, the passerby, lives straight across the street from the Parliament.
- Look, seven bullets went through the glass, they were with misaligned by the center of gravity. The first hit here, then the ceiling, ricocheted from the wall, here's the dent, and stuck in the wardrobe.
- Where were you at the moment? Down by the windowsill?
- No, drinking tea in the kitchen.
- But the kitchen windows face the same direction!
- When the shooting was bad, we went into the staircase, we were only afraid they'd use a grenade launcher.
My colleague is taking photos in the square, and I walk along the offices in the main street. A beauty parlor did not manage to close down before the riots.
- You should have seen how they defiled the toilet!
- So let's see!
- Too late, I cleaned all this atrocious stuff, could not take it being in my parlor, and the stink!
The same fate occurred at an airline ticketing office, marauders broke through the door. A tourist agency, on the contrary, seems to be back in business, computers are being carried in, and some workers are busy inside with a couple of clients.
The manager is impassive.
- Any changes are better than their absence.
- Isn't it a bit too early to open the office? Without Internet and phone lines…
- The Internet was always on. No point waiting any longer.
- What are they doing? – I ask the driver.
- You need to sit while praying.
- Aren't they offended that we did not sit down?
- Offended, a little.
The Chinese trade center "Goin" turned into ashes. All of it. A casino that used to be there was a major aggravation.
- When they came for the first time, we explained that the trade center only belongs to the Chinese, but all the workers here are locals. We gave them fifty bucks and they left. When the second mob came, we could not do anything to stop them. We found their leader and gave him two hundred dollars, and he led the crowd to a different shop. The third group was totally loony, they burned down the whole place, – one of the leaseholders says.
A small food store next door to the plundered "Popular" supermarket did not suffer any damage. They even start taking payments for mobile phones, but promise the money will reach the account only in a few hours. Shop assistants sort out canned foods they brought from home where the stock was hidden during the riots.
- How did it happen that the supermarket is pillaged, and you are fine?
- They had young boys in the guard, and we here just held hands standing in front of the door.
- Weren't you scared? A bunch of girls against a mad crowd..
- Of course I was. I stood there with my little son.
Some people with sacks prowl the still burning building of the Central Prosecutor's Office. There's nothing left, even the radiators have been torn out. How they managed to destroy the walls on the top floors is a mystery. In one of the dark halls I ask a young man what he's looking for. His specialization is finding sheets of clean paper.
License plates with letters KG designating the Prosecutor's Office cars were all taken off, but that didn't help.
A woman bought two chairs from two boys for 15 soms – 30 US cents.
By the end of the day the aggression is accumulating. Groups of obviously out-of-town youngsters prowl the streets. Yesterday they were pillaging the city, and now they are waiting for darkness to fall. They admit they are marauders, but no detail can be squeezed out of them. Often we here them speaking about us and evidently making jokes, provoking fits of laughter.
- What show are you from?
- Animal planet, – says my colleague without thinking, and that's a legitimate reason for them to beat us blue.
- You think me some bumpkin, dude? You tell me I'm an animal?
The riffraff behind the Parliament fence doesn't let us in, and won't call for their boss. We have a strong impression they are not obeying anyone, and this "defense of the fence" is only a cover to steal what is left in the building. Later we learned only people authorized personally by Roza Otunbayeva can come in.
There is also a crowd in front of the government building, but we have the "I'm the press" look, and we are pushed inside. The halls are full of men in strict suits, the doors sport signs "headquarters", "international department", "funeral department". Three girls work with press, they do not even ask for our papers, inquiring only about the media we work for. This time we say,
- Russia Today TV channel, Moscow office.
The fact that we have photo cameras and not video ones doesn't bother anyone here. We search for Roza's assistants, but in vain. We decide to move on to a hospital. The lady responsible for medicine tells us a sniper was shooting only heads and groins, the wounded are in four hospitals.
- So do you want to see the injuries ward or the urology one?
- The injuries ward is where journalists have not visited yet.
center, professor Sabyrbek Artisbekovich Dzhumambekov, heaped dozens of figures of arrivals and surgeries on us. He told us how the doctors carried the wounded out on stretchers. Snipers did not shoot at white-clad people, but the crowd hurt them, 5 nurses were beaten, one car window smashed.
- Do you have any marauders among the injured?
- Yes, they can be identified by the types of wounds and the time of arrival. Gun shells and birdshot. But we treat all our patients the same. Normally they say they only entered a building to take a look and suddenly someone shot them.
- Do you turn them over to the police?
- No.
- Why? Don't you have to?
- Earlier we did, but now we are too busy for it. If they come and ask about the wounds, we'll tell them.
Aslabek is a professional opposition member with over 20 years of experience.
- How did that happen?
- I was in the crowd, then heard a shot. I fell. They put me on police shields and carried me away.
- Was it in the very beginning of the shootout?
- No, in the middle.
They tell all kinds of stories about snipers. One of the versions is there were six of them. Two escaped, one was slit like a sheep, one shot, and two more are half-dead somewhere. And all of them are mercenaries from Baltic states.
One of the journalists told us how he survived a shootout.
- I was hiding there, and then Bang! Bang! – two dead bodies right behind me, both shot in the head!
We did not ask why a radio journalist was in the middle of it. And why the place he described has no flowers like all the others where people died.
The son of president Bakieyv, Maksim, was loathed by the people and his house was one of the first to be pillaged. The rumor here is this: Maksim goes into a night club with 19 bodyguards armed to their teeth and tells everyone, "Men leave. Girls stay!" There's nothing in the rumor about the fate of all the girls.
People visit this place as if it is a museum.
A rumor circulates that Bakiyev will be arrested in Osh, and editorial offices urgently send their journalists there. But we head to the location where homeless Kyrghyz people grabbed the last piece of land that used to belong to the tarnished authorities.
The raiders divide the area using stones and garbage into "private spots". They made lists and now will sit here day and night until they get official permits to own the land. They are very aggressive, as they are many, and the land is scarce. In half an hour a messenger came to us advise us we had better leave for good, supporting his words by the argument "your equipment must be expensive, huh?" No one here want to be included in the pictures.
- Why can't we take photos? You've even given your names in those lists!
- You in Russia will laugh at us.
I jest, "Why didn't they have any pedestrian ways between their plots? Let's tell them". But the joke's no good. "Are you insane? They'll rip us to pieces!"
An informer tells us tanks are driving on the road encircling the city. We run there headlong. Driving in the wrong lane, we finally catch up with a number of heavy military machinery. Judging by the direction, they are headed towards Osh. We already imagine sending exclusive pictures to leading news agencies… and discover they are moving towards their stationing.
In the night with a group of citizens-in-arms we went marauder-hunting. The minibus with red ribbons on its rear view mirrors and a sign "People protection squad Spartacus" was driving through the central streets.
- Why aren't we going into the side streets?
- What for? We won't hear them.
- Can't it be that they rob and pillage quietly?
- They are all crazy, but they still have some understanding.
- Then you should at least open the windows…
We notice a column of trucks loaded with special forces.
- Let's follow them! Something must be happening! – scream the excited citizens-in-arms.
While I was wondering what it is we might do to help dozens of trained military personnel, the trucks turned around and went back. Police cars with flashing lights and a multitude of buses filled the streets. Their sirens howling, they drove around the city in circles demonstrating their power.
Bishkek is under control. Tomorrow the world will forget about Kyrghyzstan for some five years more. Bid farewell to my one hundred bucks for the taxi and media attention. The question that tortured me all day is now completely solved. Now I know why the Internet and mobile connection are working alright here, but it's American friends that tell the stories from the streets of Bishkek in their blogs. The absolute majority does not give a damn about this revolution, and they have nothing to say. All the real events happened on the 7th of April, and after those super-intense hours nothing really happened.
Sergey Mukhamedov for RT