Birth record: one mother - three sets of twins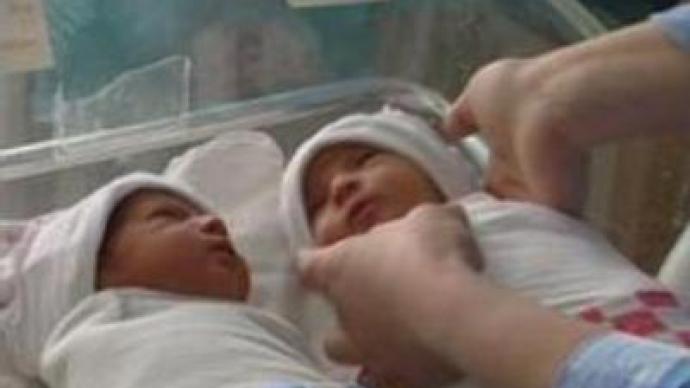 A woman in the Northern Caucasus has given birth to her third set of twins. Although Marina Khubulova had little chance to bear healthy children, the two newly-born girls got stronger quickly and were soon discharged from the hospital.
"I think children make people happy. I used to say that children are God's gift. If God decides to give us more – we won't refuse,"
says Marina Khubulova. Marina moved from Georgia's breakaway republic of South Ossetia to the neighbouring Russian region with her husband, who is now trying to find work – in the troubled republic it's almost impossible to support a big family. Marina and Elizar first rented a flat in Tskhinvali but then found shelter with their relatives in a hall of residence in Vladikavkaz.
"I have four children myself. We share our house with my sister's family. It's rather difficult – imagine, 10 children in one room! I want them to have their own home,"
says Madina Gazzeva, Marina's sister. Marina is now waiting for assistance from the authorities. Under the federal law known on Maternal Capital which came into force this year, Marina will receive around $US 10,000, though she says the money isn't the main thing:
"I'm a happy mother of course. I want to see my children healthy and become good people."
The Khubulov family has broken all demographic records in Southern Russia. In the North-Caucasian republics having many children was traditional not so long ago. Hopefully, these children will be part of a population explosion in the republic, where cases like this have become uncommon in recent years.
You can share this story on social media: