Bin Laden 'changed 5 villas, fathered 4 kids' while in hiding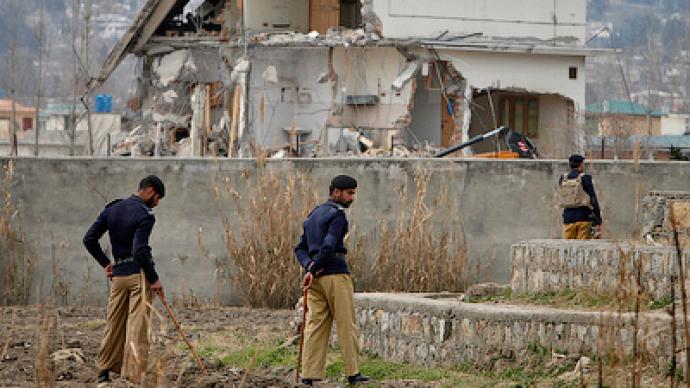 It appears former Al-Qaeda leader Osama Bin Laden moved from one safe villa to another and fathered four children while being hunted by the US after the 9/11 attacks. His youngest widow's testimony strangely portrays a "typical family man's life."
It might seem that while George W Bush was trying to "smoke terrorists out of their holes," his major enemy waged a safe and sound marital life in a series of comfortable homes during his nine year stint on the run.The woman behind the story is Amal Ahmad Abdul Fateh, a 30-year-old from Yemen who allegedly married Bin Laden in 2000 and gave him four children. She was arrested after the US raid on his compound in the Pakistani capital in 2011.Along with Osama's other widows, she is accused by the Pakistani police of illegally entering the country and was therefore interrogated by investigators. While Islamabad was going to deport her and her fellow widows, they now face up to five years in prison.In her testimony, she claimed the mysterious man enjoyed a happy life during his final six years, and was even able to build a permanent family home.Abdul Fateh says the family only felt like they were in danger once – when US helicopters flew over their compound in October 2005. The aircraft were on their way to deliver aid after a deadly earthquake struck northwestern Pakistan, killing at least 73,000 people.
Doubted story, doubted death
The woman confessed that following the September 11 attacks on the World Trade Center in New York, the family clan separated, but soon after she was able to join her husband in the large Pakistani city of Peshawar.Subsequently, she says the Bin Laden really only had to hide out in the mountains once, moving to North-West Pakistan, but not the tribal belt where the United States focused its terrorist hunt. After that, the family allegedly lived in a rented house just 80 miles from the capital Islamabad, before moving once again.The place that the woman described as a house where Osama's family spent the last six years of his life was a compound in Abbottabad, just minutes away from Pakistan's elite military academy where he was shot dead by US Navy SEAL commandos in May 2011.The operation to seize him was extremely controversial and is still questioned by many experts as no photo or video footage has been released yet proving Bin Laden was actually killed.Moreover, there are claims he died long before the raid. In 2005, the Iranian Intelligence Minister Heydar Moslehi stated that Osama died from an illness before the US raid and that Iran has documents to prove it.A former CIA agent currently living in Turkey also said Bin Laden cheated the gallows by dying five years before US security forces officially announced he was killed. "I knew Bin Laden's Chechen guards very well," Berkan Yashar, himself an ethnic Chechen, told the Russian TV station, Channel One. And just recently, WikiLeaks revealed his body was not buried at sea – according to leaked emails of intelligence firm Stratfor.Stratfor's vice-president for intelligence, Fred Burton, believed the body was "bound for Dover, [Delaware] on [a] CIA plane" and then "onward to the Armed Forces Institute of Pathology in Bethesda [Maryland]," an email says.
You can share this story on social media: