Bin Laden's son, "Crown Prince of Terror", missing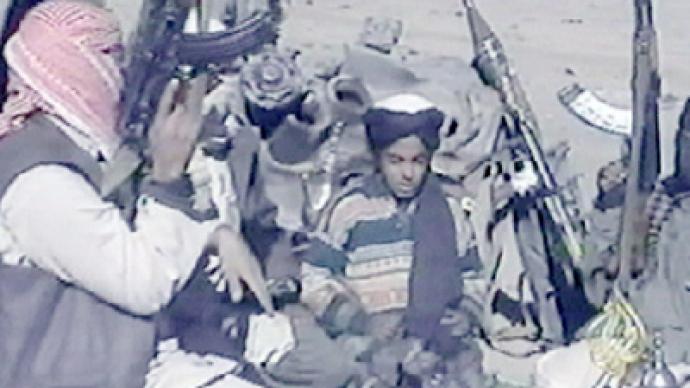 Three of Osama Bin Laden's widows have told Pakistani interrogators that one of his sons, Hamza, dubbed the Crown Prince of Terror, may have escaped the assault by the US forces on his father's compound as he has not been seen since last Monday.
­According to the initial report from the White House, Bin Laden's 20-year-old son Hamza was killed in the course of the operation in Pakistani Abbottabad. However, further reports clarified that it was his 22-year-old brother Khalid.
Hamza is believed to be Osama Bin Laden's closest confidante and was brainwashed into terror acts in his early teens, the Daily Mirror reports. He repeatedly appeared on extremist websites, such as on the third anniversary of the 2005 bombings in London, when Hamza read a poem calling for the destruction of the United States, Britain, France and Denmark.
Hamza Bin Laden was also implicated in the assassination of Pakistani leader Benazir Bhutto in 2007, and anti-terror authorities fear he may have being groomed as an Al-Qaeda boss.
"This young man could be extremely dangerous because of who he is, and because of what he knows," the Daily Mirror quoted an unnamed source in a security service. "If he has gone missing he will be fired up with the desire for revenge and held up as a figurehead for the entire Al-Qaeda franchise."
If he is at large, the newspaper's source added, then the fact that he was there during the raid means he holds huge credibility for the jihadist network.
However, some experts disagree over the potential threat Hamza Bin Laden poses.
Andrey Volodin, the head of Oriental Studies at the Diplomatic Academy of Russia's Foreign Ministry, told RT that, in his opinion, the video footage and other public appearances of Hamza is nothing more than a "popularization of succession in Al-Qaeda".
"In other words, 'Bin Laden is dead, his work is alive'. All those videos with his son, who escaped death, are aimed at demonstrating that Bin Laden's legacy is alive, he has dedicated successors and apart from them – a wide circle of Al-Qaeda's leadership throughout the world," he said.
Also, Volodin pointed out that the terror will continue regardless of the fact that Osama Bin Laden was killed and whether his son Hamza is found or not.

"Al-Qaeda is an organization with a horizontal structure, and therefore its leadership is very difficult to destroy," he said. "Most importantly, the basis for its activity has not been eliminated. Moreover, it's still expanding, because we all know that the model of globalization that the West has been practicing – it is extremely truncated. It leaves a significant, if not determinant, part of the world population outside of the process of development. Hence, it's quite natural that the opposing forces like Al-Qaeda and policy-driven Islam skillfully use this situation."