Libyan bombings sidelined by Bin Laden death news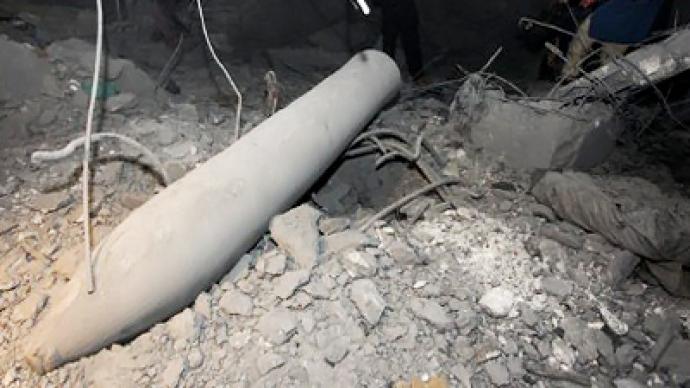 Osama Bin Laden's death effectively buried the news of the NATO air strike on Colonel Gaddafi's compound in Bab Azaziya, Libya, which killed his 29-year-old son, Saif al-Arab, and three grandchildren. They were buried in Tripoli on Monday.
All the children were said to be under 12 years old. The funeral was attended by several thousand people, AP reports.But within 24 hours after the air strike, the US president announced the death of the world's most wanted terrorist – news which overshadowed anything coming from Libya."The idea of extrajudicial assassinations, just days after NATO attempted to assassinate Gaddafi and ended up killing his son and grandchildren – once again, we see another type of extrajudicial assassination going on, which, of course, is an international war crime," says James Corbett, editor of the Corbett Report. "But in this case it's ok, because it's a boogeyman everyone loves to hate."The Coalition commanders have protested they are in full compliance with the UN Security Council resolution on Libya and only target military objects, insisting they are not targeting any person in particular. However, two recent air strikes were targeting the known whereabouts of Gaddafi."This was an attack on civilian structure. This was Gaddafi's personal compound. They murdered three of his grandchildren [and] one of his sons," Stephen Lendman, a radio host and author, told RT. "The idea is to kill him. It was a war crime. But of course, being in Libya at all is a war crime. All of the complicit NATO countries are committing war crimes every single day, attacking civilian targets, killing civilians."The bombings sparked riots, with Gaddafi supporters storming the Italian and British embassies in protest. Some believe, should the Coalition forces continue on their chosen course in Libya, the situation will go from bad to worse."NATO's activities have only strengthened the loyalty and resolve of Gaddafi supporters," independent journalist Moe Seager explained. "For each bomb that's dropped on Tripoli and other Gaddafi loyalists' strongholds, it's just the psychology of war anywhere: when you bomb a resisting group, the resolve gets stronger."And as history shows, the situation in Libya may follow a course already familiar to Western politicians."We have to give full credit to the US political establishment and the military establishment that have been always very creative in finding enemies," a director at Project for Pakistan in the 21st Century, Ahmed Quraishi, told RT. "First, it was the Soviet Union, then it was the Russian Federation, then Osama bin Laden, Saddam Hussein, and now of course we have Muammar Gaddafi, and the next one will come most definitely when the need arises."Moscow has expressed concern over the situation in Libya numerous times, saying the Coalition is using excessive force. But protests from Russia, India and China, just to name a few, have been ignored by the West, and while NATO decides on its ultimate goal, no one knows how many more lives will be lost.
You can share this story on social media: