Billionaire to "give beans" for insult to sister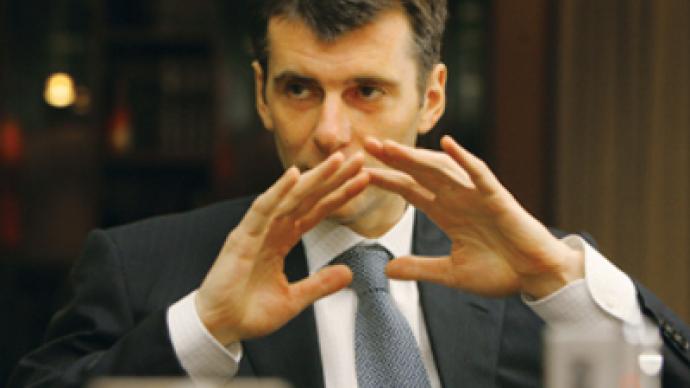 Affectionate brother and Russia's richest man, Mikhail Prokhorov, worth as estimated $9.5 billion, has vowed to defend his sister's honor. He says he'll smash the faces of those who insulted her unless they apologize.
The unpleasant story unfolded in Norilsk last week during "The Taimyr cactus" modern art festival. The event was organized by Prokhorov's charity fund, run by his sister, Irina.
The occasion was marred when a group of young activists unveiled posters with offensive messages directed at both Irina and Mikhail.
One of the posters read: "Prokhorov, bring our billion back", while another said: "Norilsk gives Moscow nickel, Moscow gives cactus back". The first was a reference to a recent scandal surrounding mining company Nornikel's pension fund. For five months the fund was run by Prokhorov's investment group, Onexim, after which around a billion roubles disappeared without trace, according to Russia's MK newspaper.
But the activists didn't limit their action to displaying posters. One of two particularly boisterous protesters is alleged to have verbally assaulted Irina Prokhorov.
The businessman reacted harshly. Prokhorov expanded on the incident in his internet blog, where he, among other things, wrote that he knew who was behind the "flak".
"I always liked planted articles and campaigns against me. First of all, I consider them a real recognition of my deeds. Secondly, I really enjoy seeing what people can spend their money on," Prokhorov wrote. "But this is a different thing – one of the activists gave a direct offence to my sister. I wouldn't let anyone do it."
Now the richest man in Russia is demanding an apology. Otherwise, he says, those responsible will have to deal with him personally.
"I've been taught by my parents always to punish women offenders. I know only one effective way of doing it. If these two gentlemen don't apologize to my sister, I will do what every normal man should do – I will give beans to them. I know, I can do it."

In Russian, to 'give beans to' means to give a beating to.

This threat of violence has already sparked a heated debates among Prokhorov's blog readers. The most frequently asked question is who are these people, who seem doomed to getting a good hiding?
You can share this story on social media: