Berlusconi feels 'obliged' to stay in politics despite fraud conviction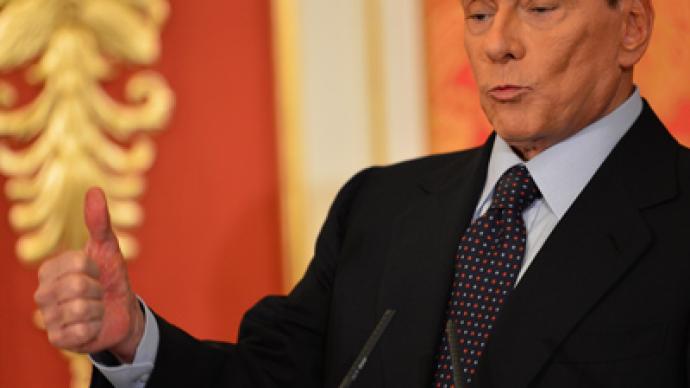 Former Italian PM Silvio Berlusconi has said he feels obliged to stay in politics a day after being convicted of tax fraud, though he will not run again to be Prime Minister. He has also accused EU leaders of conspiring in a plot against him.
Mr. Berlusconi told Italy's TV 5 – which is one of the TV channels in his media empire – that he "felt obliged to stay in the field" and that he wanted to "reform the justice system so that what happened to me doesn't happen to other citizens".
He also blamed Angela Merkel and Nicholas Sarkozy of plotting to discredit his political image at a press conference in Milan on Saturday, insinuating they might have been behind the verdict.
He further claimed to have given up power last November willingly in order to best serve the Italian people.

Declaration of war?
In a further escalation of the blame game being played out by Mr. Berlusconi he warned that his center right party – the People of Freedom Party – could withdraw its support for Prime Minster Mario Monti's government. "In the next few days we will decide with the leadership of the party whether it is better to immediately withdraw our confidence or to keep it as it is, given the upcoming election (in April)," Berlusconi said at a press conference on Saturday. The Sunday Italian press reacted colorfully to his comments. The leftwing daily Il Fatto Quotidiano said, "Berlusconi in his bunker declared war on Monti and Merkel."
A guilty verdict
On Friday he was sentenced to four years in jail at the end of a tax fraud trial where his company Mediaset was convicted of artificially inflating the price of TV distribution rights to avoid paying taxes. In his ruling, Judge Edourdo D'Avossa wrote that Berlusconi possessed a "natural ability to commit crime as shown by his pursuit of the criminal plan." Berlusconi was also banned from public office for five years and was ordered to pay 10 million euros in fines to the Italian tax office. Frank Agrama, the US-based manager who is accused of selling TV rights to Mediaset at inflated prices, was sentenced to three years, while Chairman Fedele Confalonieri, who was also on trial, was acquitted. Two others employees were also found guilty.But the court later announced that Mr. Berlusconi's sentence would be reduced to one year, due to a 2006 amnesty law aimed at reducing overcrowding in prisons. Berlusconi immediately went on TV Friday to condemn the sentence which he branded, "a political, intolerable sentence, we cannot go on like this." Berlusconi has said he will appeal the verdict, Italian law gives him two further rights of appeal, and the whole process could drag on for years, without seeing Berlusconi behind bars. Mr. Berlusconi has repeatedly argued that he is being persecuted by left wing judges in Milan. But the trial, which has taken six years to reach its conclusion, has suffered frequent delays as Berlusconi himself tried to introduce measures when he was Prime Minister that would get him immunity from prosecution. The former Prime minster has dodged three previous convictions for financial crimes, twice on appeal and once thanks to the expiry of the statute of limitations, a loophole in Italian law which throws cases out after a certain amount of time has lapsed.
Underage sex trial rumbles on
While the verdict in the Mediaset case was being read out, in another court room in the same building a separate hearing was underway in which Mr. Berlusconi is on trial for allegedly paying for sex with an underage prostitute known as 'Ruby the heart-stealer'. Karima El-Mahroug, the woman's real name, gave two rare TV interviews on Thursday where she denied ever having sex with him at his now infamous "bunga bunga" parties. "There was dancing. There were girls who were more jaunty and girls who were less so, one who wanted to do it and others not. If you wanted to, you did it. If not, you sat on the couch," She said. She went on to say that Mr. Berlusconi did not try and have sex with her, "No, he didn't ask me explicitly." Her interview was in marked contrast to Mr. Berlusconi's own statement in court a week earlier that there were never scenes of a sexual nature at his parties. He told three female judges in Milan that "bunga bunga" did not refer to sexual activity and was "only a joke I used to tell, which then got picked up by the press".The judges could make their decision on this case by the end of year, but the Italian justice system and the mandatory two levels of appeal means it could take much longer.
Decline and fall?
In reference to the former Prime Minister's sentence for tax evasion, Aexander Stille, a biographer of Berlusconi and professor at Columbia University in New York told the UK newspaper the Times "This conviction, if it does hold up and is confirmed on appeal, would be important in terms of the historical record. A conviction that was upheld would establish once and for all that Berlusconi was a criminal." The current Italian government under Mario Monti is pushing anti-corruption legislation through the Italian parliament which would bar people convicted from running for parliament. This would effectively put an end to any further attempts by Mr. Berlusconi to re-enter main stream politics in Italy. Mr. Berlusconi's People of Freedom Party has been plummeting in the polls in his absence and is verging on disintegration.
You can share this story on social media: