German cops spy on 4 mln phone users to catch arsonists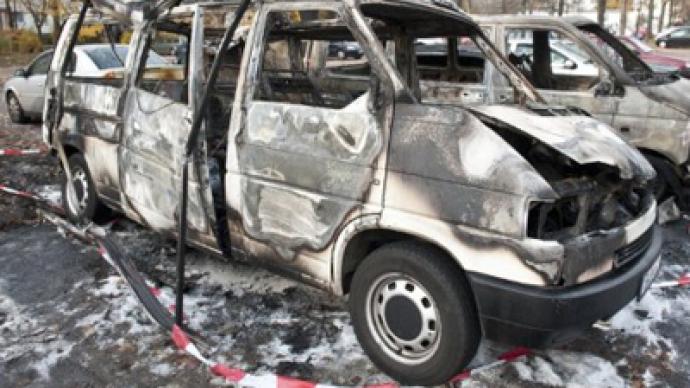 Police in Berlin have collected data on more than 4.2 million cell phones in a fruitless attempt to track down those behind hundreds of arson attacks on cars in the German capital.
The police started collecting cell phone data in 2008, Tageszeitung newspaper reports. They did not record conversations, but traced calls and texts. They also used this information to identify the names and addresses of about a thousand people living near the arson sites.The paper says police planned to continue the monitoring process with a further 1.7 million checks planned. The tracking operation was acknowledged by police on Monday and sparked an outcry from opposition parties. "This is beyond my imagination," exclaimed Udo Wolf, a politician from the Left Party.The car-burning incidents have been taking place in the relatively calm German capital for years and underwent a surge in August with 47 cars being torched in three nights.At times the attacks seemed politically-motivated and targeted luxury cars in wealthy neighborhoods, before then spreading across other areas of Berlin.The German media has speculated the arsonists might be from the far right or far left or possibly just youths copying the riots in the UK.Dieter Wiefelspuetz, a member of parliament and crime expert for the center-left Social Democrats, called the attacks "a precursor to terrorism," reminiscent of the far-left Red Army Faction terror group that carried out bombings and assassinations in 1970 and 1980s.Several arrests have been made in the hunt for the arsonists but only one person has been convicted so far, according to Reuters. A 43-year-old unemployed Berlin man got a 22-month suspended jail sentence and 300 hours of community service in August for setting fire to a BMW.
You can share this story on social media: