Russia's self-exiled tycoon Boris Berezovsky dies at 67
The self-exiled Russian oligarch Boris Berezovsky was found dead in his home outside London on Saturday. Police have launched an investigation and chemical hazard experts are currently present at the scene.
Follow RT's live coverage of events surrounding Berezovsky's death.
The oligarch was once seen as one of the most influential people in modern Russian history. Gaining incredible fortune during the Perestroika years and having had enormous influence on Russian politics he became a trademark of the turbulent 90s. After fleeing to London in 2000, the tycoon became the center of a circle of anti-Putin exiles, along with Chechen rebel envoy Akhmed Zakayev. In Russia he was found guilty in several high-profile fraud cases.

Thames Valley Police are currently treating the death as unexplained and stress a full inquiry is under way. They have referred to the person as "a 67-year-old man," but add that "the man is believed to be Russian national Boris Berezovsky". The area around the property in Ascot, Berkshire, has been cordoned off to allow the investigation to take place. CBRN has been conducting tests and precautionary searches in order to enable a further investigation into the death, according to an official statement from police. So far chemical and radiation investigators said no traces of foreign substances have been found and his house was clear, according to Thames Valley Police.
The news from Britain first emerged on Facebook, where Berezovsky's son-in-law Egor Schuppe posted a status, giving no details regarding the nature of his death.  Damian Kudryavtsev, the former CEO of Kommersant Publishing House and a family friend,  was one of the first to announce that the businessman died of heart attack at 11:00 GMT.

Aleksandr Dobrovinksy, a famous lawyer and head of the Moscow-based The Alexander Dobrovinsky & Partners law firm, was the first to suggest that Berezovsky could have committed suicide.

Speaking to RT he said: "Two people called me around 8pm saying Berezovsky had died. One told it was suicide, and the second person said he might have died of a heart attack. I previously heard from people close to Berezovsky that he was practically broke and utterly depressed. A person I know called me and said that Berezovsky even asked to borrow $ 5,000 for a ticket. He was also seriously ill."

The body of Russian tycoon, who in early 1990's was member of Boris Yeltsin's inner circle but later turned into harsh critic of Vladimir Putin, was found in the bathroom of his Surrey estate, Russian Channel One reported. The channel also said that Berezovsky had suffered several heart attacks over the course of last week.
Berezovsky's spokesman Lord Tim Bell has said that the body was found by a security guard.  

A call to emergency services made from Berezovsky's house was received at 15:18 GMT, LifeNews reports.

Russian President Vladimir Putin has been informed of the incident, his spokesperson Dmitry Peskov said.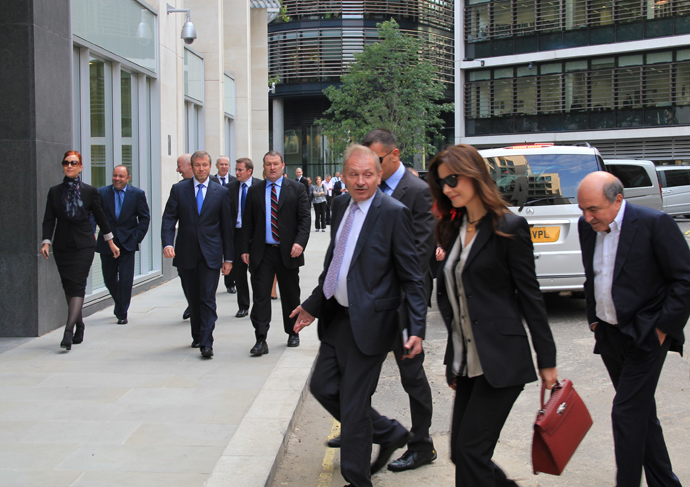 From boardrooms to bust

Much of his wealth was built up during the so-called Perestroika period in 1990's Russia. Capitalizing on a time of instability and opportunity Brerezovsky became the richest man in the post-Soviet country.

In 2008 Forbes estimated his fortune at $1.3 billion. However, over the past few years legal battles cost the tycoon dearly. 
In August, Berezovsky lost a $5.6-billion court battle against Russian billionaire Roman Abramovich in a highly publicized dispute over the ownership of the profitable oil company Sibneft. He was further ordered to pay Abramovich's $56 million in legal costs.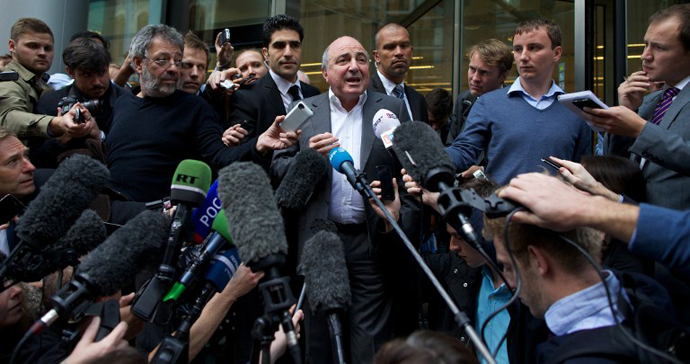 Berezovsky's son-in-law reportedly said the oligarch had been suffering from depression recently. Further noting that he failed to keep in touch with friends and acquaintances, and often chose to stay at home rather than go out.
Berezovsky made headlines earlier this week, after news broke that the tycoon was auctioning off an Andy Warhol portrait of Soviet leader Vladimir Lenin. The oligarch was planning to sell his limited edition 'Red Lenin' print in hopes of paying off creditors and legal bills, the Times reported.  The 1987 portrait has been estimated by Christie's to be worth between $45,000 and $75,000, and is reportedly in excellent condition.
Berezovsky left Russia in 2000, shortly after his relationship with President Putin and Russia's government began to deteriorate. Just three weeks into Vladimir Putin's first presidential term, details of the pairs spat became public knowledge.
He moved to London in 2001, where he was granted political asylum.  Two years later  Berezovsky was given new documents in the name of Platon Elenin, by the British Home Office.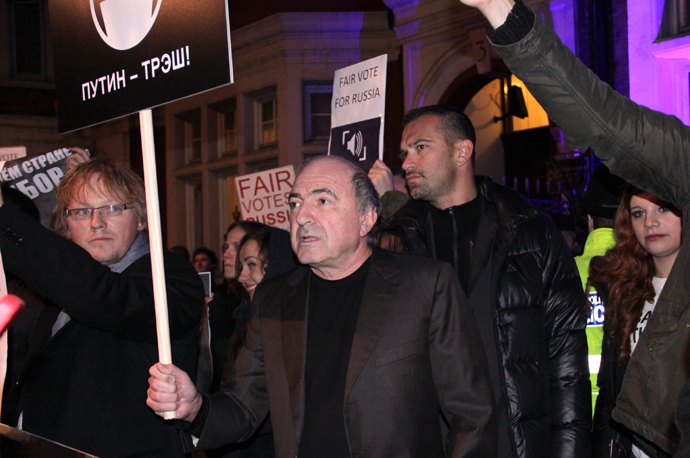 Berezevsky's battles with the Kremlin didn't end with exit from Russia. In London the tycoon became the center of a circle of anti-Putin exiles, along with Chechen rebel envoy Akhmed Zakayev and former Russian agent Alexander Litvinenko, who died of polonium poisoning in November 2006.

While Scotland Yard considers Andrey Lugovoi, who is currently serving as a deputy in Russia's State Duma, a main suspect in the killing, Lugovoi himself points the finger of blame at exiled Berezovsky. 
Commenting on the news from London, Dmitry Peskov claimed that recently Berezovsky had been in personal contact, asking the president for forgiveness for his "mistakes" and permission to return "to [his] motherland".
"Some time ago, maybe a couple of months ago, Berezovsky addressed Putin in a letter, written by him personally, in which he admitted he made a lot of mistakes and was asking for forgiveness and to help him to return to the motherland," Peskov told Russia 24 channel.
In reference to that letter, political analyst Sergey Strokan of Russia's Komersant newspaper says that Berezovsky "probably tried to make a deal with Putin, thinking he could do it in the way it was done in the time of Yeltsin, in the 90s, when politics was done through such behind-the-scenes deals - unofficial understandings - between oligarchs and politicians. But it seems it didn't work because we had not seen Berezovsky come to Russia in recent weeks."
Strokan continued on the subject of Berezvosky's legacy:
"He was one of the most bright and controversial figures in recent Russian history. I think [his] name is a trademark of Russian politics in the 90s, when we had official power of the president and PM and an unofficial power of the 'semi-bankirshina' (referring to bankers - Russian slang)
who were very articulate in Boris Yeltsin's era and were running things in Russia. But this time, luckily, has gone forever." The prolific tycoon was put on Russia's wanted list in 2001, around the time he fled the country, on charges of fraud and money-laundering, owing to a scandal involving Aeroflot airlines and an attempted violent power takeover.
In 2007, a Moscow court found him guilty in absentia of stealing 215 billion rubles from Aeroflot and sentenced him to six years behind bars.
The tycoon was given a total of 19 years in prison by a number of Russian courts over various charges. He claimed the cases against him were provoked by Russian President Vladimir Putin.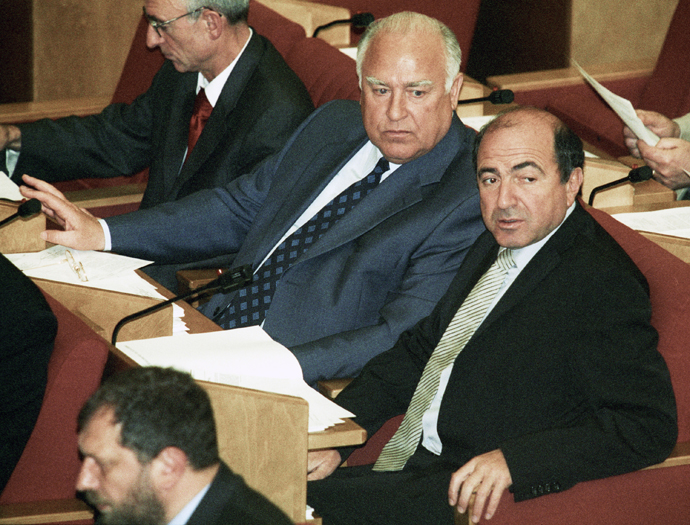 If Berezovsky's death is officially confirmed it may be a reason to cancel all criminal cases against him, Interfax news agency reports citing a source "familiar with the situation".

However, the unnamed source said that the investigation into cases against tycoon could remain open if his family wishes.  If the investigation and criminal cases are canceled, it is possible the court ordered freeze on his key assets would be lifted, the source said. Interfax, noted that this information cannot be immediately confirmed.
You can share this story on social media: