Belgrade and Pristina search for common ground in Vienna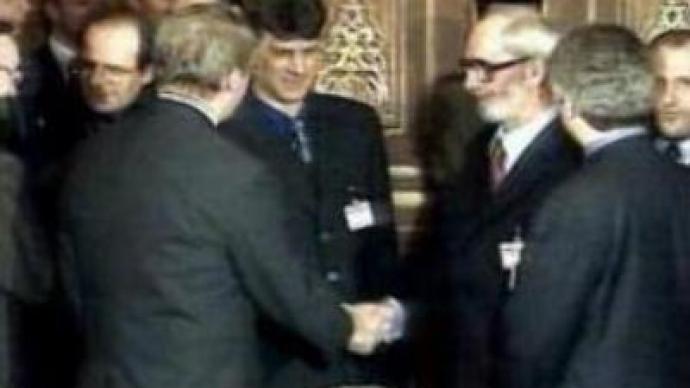 Serb and Albanian leaders have begun final talks in Vienna on the UN proposal for Serbia's breakaway Kosovo province. It puts the breakaway republic on the path to independence under the supervision of the European Union.
The Vienna talks cap a year since UN special envoy Martti Ahtisaari began mediating between the two sides. So far, Belgrade has been rejecting the plan, which provides for many rights for the province including the right to apply for membership in international organizations, create its own armed forces, and adopt national symbols. However, Serbia is willing to accept an autonomous Kosovo within the country's borders.
"Serbia is very determined that there must be a compromise solution at the end of this process. Serbia will be positive, Serbia will engage fully,"
announced Vuk Jeremic, Senior Adviser to Serbian president.Kosovo's ethnic Albanians, who make up 90% of the province's 2 MLN population, are more supportive of the UN plan but want full independence from Serbia.Mr Ahtisaari's proposal setting the province on a path to independence has heightened tensions. Clashes between several thousand ethnic Albanians and UN police killed two people early this month. Just this week a bomb attack damaged three UN vehicles.The plan has the backing of the USA, EU and NATO. However, Russia has been against any imposed resolution not acceptable to both sides, warning it could spark instability in the region.In addition, a Balkans analyst from the 'Voice of Russia' radio station, Pyotr Iskanderov, told Russia Today the Vienna talks are unlikely to produce an agreement.
"The Parliament of Serbia rejects many points of this plan because it doesn't support the territorial integrity and sovereignty of Serbia. So, this plan can't be a basis for such a compromise. I think it's too early to take a final decision on the status of Kosovo. First of all, we have to change some things in the province. For example, we have to reach an agreement on the return of Serbian refugees and so on. But the final status of Kosovo, it's the problem not for today,"
stressed Mr Iskanderov.The Vienna talks will last till March 10. However, with even Mr Ahtisaari doubting an agreed solution, the bargaining is likely to continue later in the month at the Security Council.
You can share this story on social media: