Belgian Senate panels advance children euthanasia bill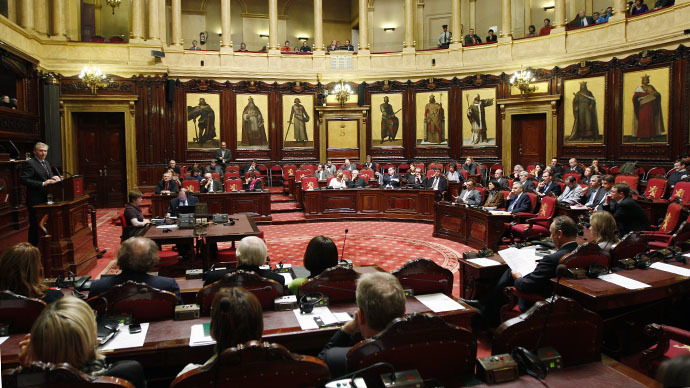 Two panels of the Belgian Senate approved Wednesday a controversial proposal to include in an existing law the possibility of allowing children - in certain cases - to opt for euthanasia.
The social affairs and justice committees voted for the measure, 13 to 4, during a joint meeting.

The divisive bill now goes to the full Senate for deliberation.
If approved by the Belgian legislature, children with oppressive physical pain and in a terminal condition could request euthanasia as long as their parents consent.
A psychologist would be required to certify the child knows the consequences of the decision, and the child would have to be under medical care.
Lawmakers that brought the proposal also hope to give patients with early dementia the same right.
"This is an important step, not just for the minors themselves but also for the doctors who are confronted with such situations," said Jean-Jacques De Gucht, a senator and member of the Open Flemish Liberals and Democrats, according to Reuters.
Just weeks ago, 16 pediatricians wrote an open letter in two Belgian newspapers calling for an extension of euthanasia rights.
The legislation was proposed by the ruling Socialist party. The bill is facing domestic opposition from the Christian Democratic and Flemish party, which stated that it will take the new proposal to the European Court of Human Rights if necessary, AP reported early this month.
"They sometimes say that age limits are arbitrary but trying to judge whether a minor is able to make such a decision is even more arbitrary," said Els Van Hoof, a senator of the Flemish Christian Democrats, as cited by Reuters.
Inspired by Belgium's original 2002 law, Quebec is now considering a bill to legalize euthanasia. The legislation passed a second reading last month and is now being reviewed in committee.
Étienne Montero, dean of law at Belgium's Université de Namur, said Quebec's bill is similar to the Belgian law. He warns that once once euthanasia is allowed, a Pandora's Box is opened.
"I believe that once you accept the principle of euthanasia, we do not know how to set the limits or how to assure control of its practice," he told the National Post. "We set strict conditions but we do not stick to them, not at all. Why? I think because euthanasia is made banal. It becomes a dignified exit. It becomes more and more normal."
Since the legalization over a decade ago, the number of reported cases of euthanasia in Belgium has jumped from a couple hundred to over 1,400 per year.
The debate over euthanasia is a global one, while the practice is legal in only a few countries. The Netherlands allows it for adults and children over the age of 12, but in very specific circumstances. Assisted suicide is also legal in Luxembourg. In Switzerland, a doctor is allowed to help end a patient's life, but is not permitted to actually do so.
The US state of Oregon also legalized assisted suicide for people over the age of 18 who have a terminal illness. Washington, Vermont, and Montana have similar rules.