Silent Revolution: Belarus digital underground surfaces
Published time: 21 Sep, 2011 04:10
Edited time: 21 Sep, 2011 18:27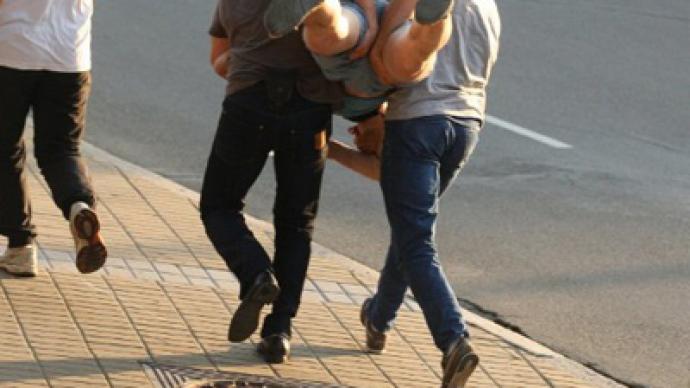 After a brief hiatus, opposition supporters in Belarus are preparing to go into battle again. Silent protests across the entire country are the game, and undermining the authoritarian regime of President Lukashenko is the aim.
­'A little bird told me' goes the popular idiom. In Belarus the little bird is Twitter, and it, along with Facebook, is telling those unhappy with the current political regime in the country to take their opinions onto the streets. The irony of the situation is once people are on the streets their opinions will most likely land them in prison – so the only thing they can afford is an absolutely silent rally. Hoping that actions will speak louder than the words they aren't allowed to speak, the organizers, a group called 'Revolutions through Social Networks', say citizens of 65 cities and towns, including the capital, Minsk, will conquer their fear and come outside.
Click to enlarge
"The people, they don't want to just come out on the streets, risking everything", says one of the group's leaders, Vyacheslav Dianov. "So we've talked strategy and made a plan of action, as well as a list of demands – so our people know exactly what they're fighting for."
The fighting is also rather figurative. A huge list of 'don'ts' is posted on the group's page, including 'don't bring any banners or flags', 'don't shout any slogans' and even 'don't wear anything that can distinguish you from a random passerby'. That's all because of a new bill submitted to the parliament that makes "the organized inaction" of silent protesters an illegal act. And so the so-called 'revolution' movement is devolving, forced to toe dozens of newly created legal lines, the voice of the people silent – but not silenced.
Organizers aren't exactly expecting thousands upon thousands to show up – and that is understandable. When these silent protests were last held in July, hundreds of people were arrested. Many spent up to 15 days behind bars, or were fined. The government favored an all-round crackdown, from punishing those who were actually on the streets, to chasing after anyone and everyone who took part in organizing the rallies.
Some, like Mikhail, lost their jobs because of that. A criminal case was opened because Mikhail shared the rally details on his social network page. He was found guilty – and got fired almost immediately afterwards.
"My boss allegedly got ordered to lay me off. And I won't be able to find a job in my home town ever again", said Mikhail. "I've worked at this factory for four years, and never even been reprimanded and had the perfect work record! Now, I don't know what to do or where to turn."
It's a scare tactic that's proven very effective, as Belarus struggles through a very bleak financial time – the worst economic crisis since the breakup of the Soviet Union. President Lukashenko, dubbed 'the last European dictator' by many, isn't a favorite with the West and his request for an $8 billion bailout from the International Monetary Fund got turned down. Prices are skyrocketing. People are stealing food and bare necessities from shops and supermarkets.
"What do you expect when prices for staples like ham have increased threefold in the last two months?" says Aleksandr, who works as security in a Minsk supermarket. "You wouldn't believe the things people come up with. One man unwrapped two pounds of beef to remove the security sticker and put it in his pocket. Another put a three-liter bottle of wine down his pants. Women steal baby food. Older people steal bread. Everyone steals whatever they can get their hands on."
The despair is evident everywhere – even in the social networks used to rally people together. On Twitter, the hashtag – or a topic with a hash symbol ("#") at the start to identify it – for anti-government events in Belarus used to be #electby. It represented a mix of the word 'election', representing what the people were fighting against, namely what they believe to have been a fraudulent presidential election in December 2010; and 'by' – the domain name used most often in Belarus. Over the last few months, that hashtag changed to #pizdecby – with 'election' being replaced by 'clusterf*#k'.
Many are trying to keep positive, ridiculing Lukashenko in the hope of both demeaning him in the eyes of the Belarusian people, and keeping public spirits high. Jokes like "Fast, expensive, effective cure from nicotine addiction by A. Lukashenko" after the president raised the price of cigarettes nearly threefold have become more and more popular. But when you hear jokes like "the opposition's next planned protest is to lock yourself in the house, turn off the lights, hide under the covers and whisper that Lukashenko has to go" – that's when the despondency of the situation is felt the most.
Katerina Azarova, RT