Belarusian president: Crimea is de-facto part of Russia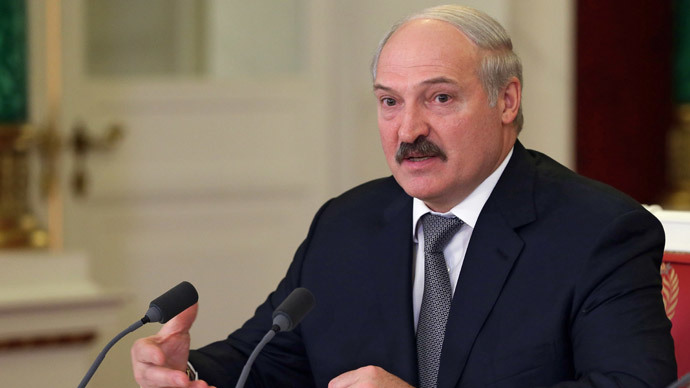 Belarusian President Aleksandr Lukashenko has stated that his country accepts that Crimea is now de-facto a part of Russia. "We agree with the Russian Federation on that," the leader said.
Lukashenko stressed that no one has asked Belarus to recognize or not to recognize Crimea as the federal subject of Russia.
"Crimea isn't an independent state. It's part of the Russian territory. One can recognize or not recognize that, it will change nothing," Lukashenko told journalists in Minsk on Sunday.
"I am asked where my country is in this situation. Taking into account historical processes, in the framework of the CIS, we're linked with agreements, and we'll be with [on the side of] the Russian Federation," the Belarus president added.
However, he stressed that Belarus isn't against NATO.
"If the question arises, we'll be with Russia forever," Lukashenko said.
On the other hand, Lukashenko "as a person, not as a politician" is of the opinion that Ukraine should "remain an integral, indivisible, non-aligned state."
Speaking on the territorial integrity of Ukraine, Lukashenko said, "Would you like it if a state's sovereignty is breached? But who pushed towards that? When Russia saw how the Russian, Slavic world was being stifled, the country interfered immediately."
Finally, he pointed out that if Ukraine is determined to join NATO, "evidently, Belarusian reaction to that will be harsh."
Belarus will build a relationship with the new Ukrainian government after it is elected, Lukashenko also stated.
"Whoever is elected by the Ukrainian people, we'll support them. They are our neighbors, not some strangers to us," the Belarusian leader said.
He added that Belarus can't scrap its partnership with Ukraine, as their combined turnover of goods was 7 billion dollars last year.
The Belarusian president thinks that statements about quitting the CIS by the coup-appointed Ukrainian politicians are shortsighted.
"I think that those who influence Ukrainian politics won't make such a step. Why slam the door?"
He said he will propose discussing the issue with Ukrainian politicians. The exit of Ukraine from the CIS would be a heavy blow – "but not a deadly one," Lukashenko further noted.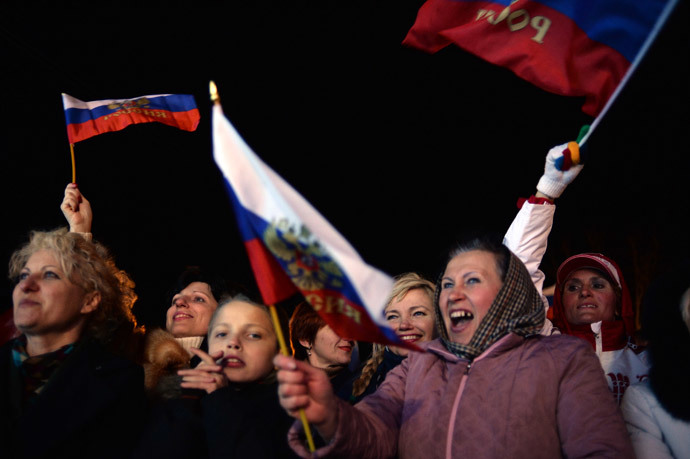 On Friday, the republic of Crimea and the city of Sevastopol have been officially accepted into the Russian Federation, with president Putin signing the finalizing decree.
Previously, Russian lawmakers ratified an international treaty with Crimea and the city of Sevastopol, which the sides signed at the Kremlin on March 18.
Crimea's rejoining of Russia was triggered by an armed coup in Kiev, which saw democratically elected Ukrainian President Viktor Yanukovich ousted.
The uprising of the predominantly Russian-speaking region of Crimea began after the new self-proclaimed authorities passed a law revoking the regional status of the Russian language.
It resulted in a referendum in which 83 percent of the Crimean population participated. An overwhelming majority of over 96 percent voted in favor of reunification with Russia.
You can share this story on social media: