Belarus a model state - visiting Chavez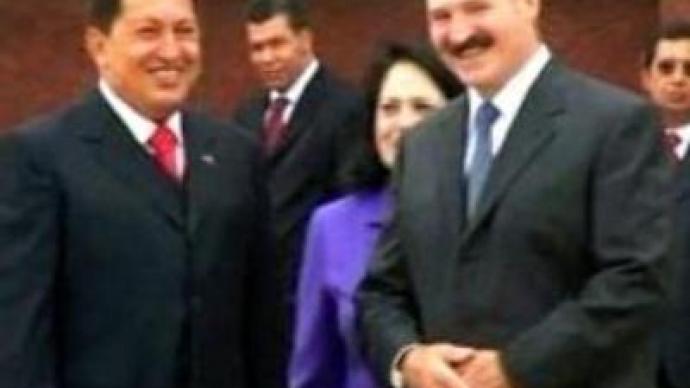 Venezuelan President Hugo Chavez continues his two-week world tour by visiting Volgograd, southern Russia, as his trip to Minsk draws to an end.
Chavez received a warm welcome in
Minsk
, with honour guards and friendly hugs from the Belarusian leader. A mock air battle was played out at an historic war site near the Belarusian capital. "
Belarus
is a model for the social state we're building," the south American leader told his hosts. "We must defend the interests of the individual and not the interests of the capitalists, wherever they may be, in Europe or
Latin America
," he said. Chavez said he had found yet another friend in the Belarusian president and was ready to form a "fighting team." Both leaders are known for their criticism of the
United States
, calling for creation of a multi-polar world.Lukashenko welcomed Chavez's proposal for increased co-operation as accords were signed in energy, science and trade. In
Volgograd
, the Venezuelan leader's schedule includes a meeting with the region's governor, Nikolay Masoota, a visit to Mamaev Hill and wreath-laying at the eternal flame in the Pantheon of Glory. After Volvograd, Chavez visits
Moscow
for talks with Russian President Vladimir Putin and other officials.
You can share this story on social media: