Banned in the UK! BBC fights for right to air riot docudrama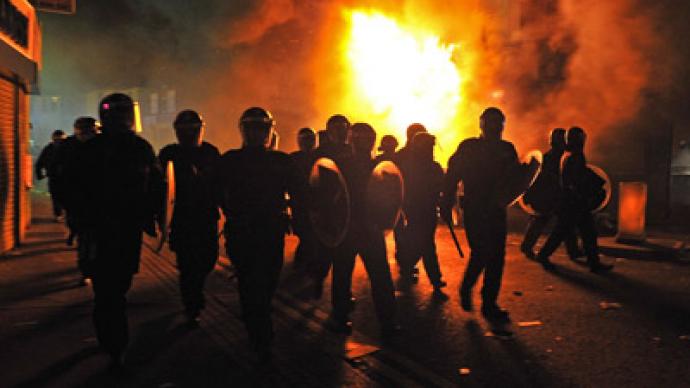 The BBC is considering making an appeal against a court order which stopped it from broadcasting a dramatized film on last year's riots in London.
The film, which features actors portraying anonymous rioters sharing their experience of the events, was due to be broadcast on Monday evening, but was banned by a court order hours before hitting the airwaves Its script was written by award-winning playwright Alecky Blythe and is based on interviews from some 270 people conducted by the Guardian and London School of Economics as part of a study into the massive public disorder. The first installment of The Riots: In their own Words focuses on rioters, while the second film of the two-part series shares the impressions of police officers on duty at the time.Both were banned from being broadcast by a court ruling, which BBC lawyers now plan to appeal against, reports the Guardian. The newspaper says for legal reasons it cannot report the name of the judge who made the controversial ruling, the court in which it was done or the case he was presiding over.Little detail was disclosed on the content of the ruling itself. The British newspaper cites it as saying: "It is ordered that the BBC programme 'The Riots: In their Own Words' due for broadcast on BBC 2 tonight is not broadcast by any media by any means until further order."The ruling also ordered the BBC to remove a clip promoting the film from its website, which the broadcaster did. The clip, previously available on a blog posted last Friday, featured a BBC producer saying that the "important and illuminating" interviews in the drama would provide insight into "why and how the riots had happened".After the court ruling arrived the BBC said it would put the program out at a later date. The film was part of the company's package prepared for the coverage of the one year anniversary of the August 2011 riots in Britain.What started as peaceful protest in Tottenham erupted into five nights of violence, looting and a subsequent police crackdown. Five people were killed and more than 2,500 shops and businesses damaged. Over a thousand people received jail for their part in the disorder.