BBC Chief addresses Alan Johnston's kidnappers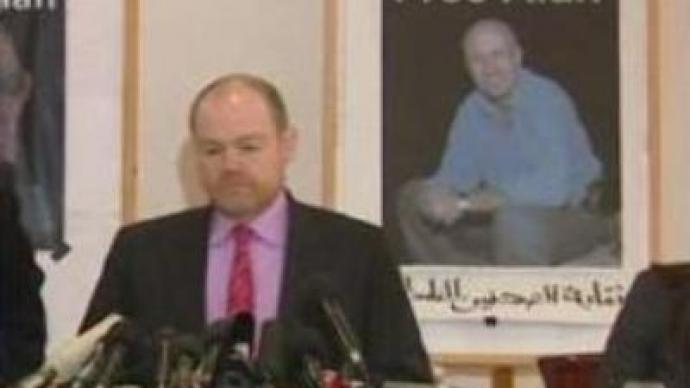 The BBC says it has received assurances from the Palestinian President that its journalist kidnapped in Gaza a month ago is well and safe. The BBC Director General is now in the Middle East to help efforts to free Alan Johnston.
Alan Johnston's family also pleaded for his release at a news conference in London arranged as part of a day of action to raise awareness.Forty-four-year-old Alan Johnston disappeared on March 12. He was kidnapped by Palestinian gunmen from this street as he was driving a car.The head of the BBC, Mark Thompson, traveled to the Middle East to ask for his release.
"It is vital for all journalists to be able to report freely and without fear of harassment and intimidation. I appeal to all those who may have influence with the kidnappers to use their best endeavors to secure Alan's release, safely and speedily, and sure his return to his family and friends as quickly as possible,''
Mr Thompson stated. Johnston's father, Graham Johnston, also pleaded for his release as public events took place across the UK to raise attention to his plight.
"I would like to say something to those who are holding my son. You have families. Please think about what this is doing to my family, including in particular the distress and deep, deep concern Alan's mother and sister have had to endure for all these long weeks. As I have said before, please, let my son go. Now. Today,''
Graham Johnston addressed the kidnappers.
The incident led to a public outcry. Palestinian journalists took to the streets several times protesting against the abduction. The Palestinian authorities condemned the kidnapping and promised to help. But the efforts have yielded no result so far. No group has claimed responsibility.Alan Johnston has been the BBC correspondent in Gaza for three years. He is believed to be the only Western journalist based there full-time, following a series of abductions of foreign reporters and aid workers last year. All of them have been released unharmed.
You can share this story on social media: