Bardot takes her hat off to Putin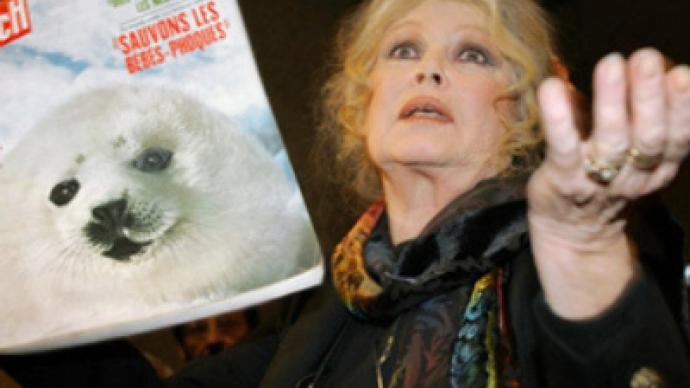 Legendary French actress and animal rights campaigner Brigitte Bardot has thanked Russian PM Vladimir Putin for supporting an initiative to ban the hunting of baby seals.
In her letter to Putin whom, according to AFP, she called "the president of her heart", 74-year-old Bardot wrote: "I really want to thank and congratulate you for your willingness to denounce the hunting of young seals that you rightly qualify as a bloody industry."
Under Putin's initiative, Russia has issued a complete ban on hunting baby seals younger than 12 months, known as "whitecoats".
It's not the first time Brigitte Bardot has communicated with Vladimir Putin. She recalled that back in 1999 they discussed the "dramatic situation" concerning seals.
She has recently written letters to presidents Nicolas Sarkozy and Barack Obama urging them to denounce seal hunting in Canada, notorious for clubbing the animals to death.
Bardot has been involved in animal rights activities for decades, protecting wild and domestic animals all over the world. Her high-profile campaigns include the Fur Free Alliance, opposing bullfighting and the Global Anti-Whaling Campaign.
She took up the animals' cause in 1962, when she publicly decried the methods used to kill animals for slaughter. A few years later, she won a change in the law for animals to be stunned before slaughter.
Bardot starred in films by Federico Fellini, Louis Malle, Jean-Luc Godard, and Roger Vadim. But despite her success, Bardot retired from acting in 1973 at the peak of her career and has devoted herself to animal welfare ever since.
In 1977, after shocking images of baby seals being massacred on the ice floe, Bardot's efforts, helped bring about a ban on the sealskin trade. It was then that the actress created her own Brigitte Bardot Foundation. She sold her jewellery and auctioned other personal items to raise the 3 million francs needed to set up and register her charity.
You can share this story on social media: