Ban the cluster bomb! But not everyone will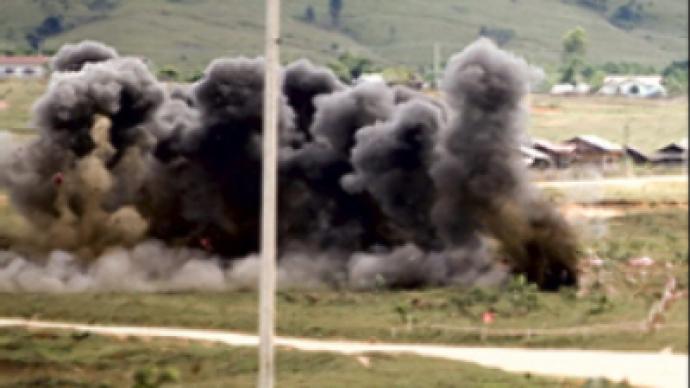 100 countries are meeting in Oslo on Wednesday in a summit aimed at banning cluster bombs. The explosives have been guilty of causing numerous injuries to civilians in many conflicts.
The Convention on Cluster Munitions would ban the munitions which contain dozens of smaller bomblets designed to kill or injure enemy troops. They are usually dropped from aircraft or launched by artillery on the ground and dispersed in the air.
But many bomblets fail to explode immediately – and turn into virtual land mines on the ground. They are notorious for causing injuries to civilians and are condemned for injuring children.
"They are small, have intriguing colours and children tend to be attracted to them and pick them up," says Grethe Oestern of Norwegian People's Aid.
The treaty would outlaw the use of the bombs as well as production, transfer and stockpiling. Signatories of the agreement would help people and countries who have suffered.
"It's one of the very few times in history that an entire category of weapons has been banned," said Thomas Nash of the umbrella group Cluster Munitions Coalition (CMC).
According to CMC, over the decades the number of victims of cluster bombs is estimated to run into tens of thousands, but the real numbers will never be known.
The countries which are determined to sign the ban include the UK, which in the past has been one of the bomb's biggest users. However, other major players such as the USA, Russia, Israel and China are shunning the pact.
Anatoly Antonov, the head of the Department for Security and Disarmament of Russia' Foreign Ministry, said that cluster bombs are legal and effective weapons which are allowed by international law.
U.S. Department of States spokesman Robert Wood said that the Bush administration considers the bombs essential in modern warfare.
Despite this, countries signing the treaty believe that the move will have a moral impact on other countries worldwide and help stigmatise the use and production of cluster bombs.
The CMC believes the tactic will have a powerful effect. "Even big countries like Russia don't want to be associated in the media with having used cluster bombs," says Thomas Nash.
Related links
Georgia admits dropping cluster bombs
We have evidence of genocide – Russian investigators
Cluster bomb ban rejected by major nations
You can share this story on social media: