Ballots to be recounted in Moldova – Constitutional Court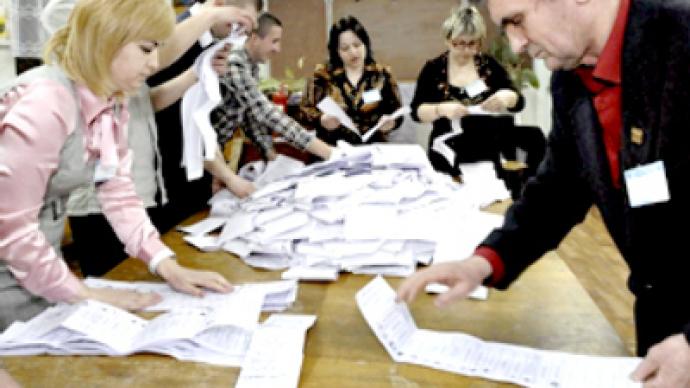 Moldova's Constitutional Court has decided that votes from the parliamentary election must be recounted within nine days. The decision follows violent riots after claims that the original balloting was rigged.
The decision was made at a special session of the country's Constitutional Court on Sunday, reported RIA Novosti.
"The Constitutional Court has instructed the Central Election Committee to recount the votes in accordance with the election law. The decision comes into force today," said Dmitry Pulbere, the Head of Moldova's Constitutional Court.
Moldova's president and the leader of the country's Communist Party has called for a recount after more than ninety people were injured in Tuesday's riots, which were organised by the country's pro-Western opposition.
"The Constitutional Court has decided to comply with the request from the leader of the communists, Vladimir Voronin," said the press-secretary of the Court, Dmitry Tsyra, to the RIA Novosti agency.
On the April 5th, the Communist Party won the ballot, which election observers declared was fair.
Around 10,000 people protested in the capital, Chisinau, claiming the vote was rigged. The demonstrators stormed parliament and the president's office. Hundreds were arrested.
On Sunday, the opposition was holding further protests, which have gathered around 3,000 people. No incidents have been reported during the meeting. Participants have supported the resolution by their leaders, demanding more political freedom in the country, and the release of those detained during the protests on April 7th, ITAR TASS reported.
Earlier, on Saturday, Moldova's Central Election Committee approved the results of the 5 April parliamentary ballot and submitted them for approval to the Constitutional Court, writes Interfax.
According to the vote results, the Communist Party won 49,48% of the ballots, the Liberal Party – 13,14%, the Liberal Democratic Party – 12,43%, and 'Our Moldova' alliance – 9,77%. Other parties have not gained the necessary number of ballots to enter the new parliament.
You can share this story on social media: