Mladic refuses to enter plea at hearing in The Hague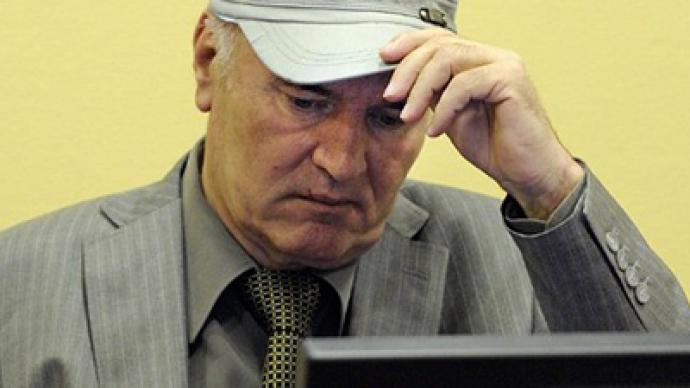 While former Bosnian Serb General Ratko Mladic asks the Tribunal for a month to prepare his defense, many Serbs feel the International Criminal Court is only out to get justice for one of the sides in the conflict.
Appearing in court at Monday's hearing, Mladic plunged into a conflict with Judge Alphons Orie, first refusing to remove his cap and later, when the judge gave him time to make a statement, insisting he would say nothing until the defense lawyers he had chosen himself joined the proceedings. With Mladic refusing to enter pleas on his second hearing, his plea was assumed as "not guilty". Ratko Mladic declared he would not listen to the indictment, after which he was removed from court for continuously violating the session.Mladic slammed the tribunal for "imposing a lawyer" on him. The court-appointed Serbian lawyer, Aleksandar Aleksic, requested the judge postpone the hearing and relieve him of his duties, as Mladic did not accept Aleksic's assistance. Aleksic's request was declined. The two lawyers picked by Mladic have not yet been approved by the court. Finding his defense unsatisfactory, the former general had actually planned to boycott his second plea hearing.The court is expected to complete assessing Mladic's new lawyers no earlier than August, 1.Ratko Mladic is accused of ordering the massacre of thousands of Bosnian Muslims in the town of Srebrenica.
Balkan graves have relative international value
Nowadays, the quiet little town of Srebrenica in Bosnia and Herzegovina looks idyllic. New houses are being built, people go about their business. And in the center of the town, a mosque and a church sit side-by-side.But this apparent unity is an illusion. Sixteen years ago, the entire region was torn apart by ethnic clashes during the Yugoslav War. And Srebrenica became infamous when the United Nations stated 8,000 Muslim men and boys were massacred by Bosnian Serb forces. Today, a memorial for the deceased sits on the grounds of a former UN military base. The Srebrenica memorial ground is well maintained and frequently visited by locals, journalists and tourists who get a bus down from the Bosnian capital of Sarajevo. What the tourists are not shown are the thousands of Serbian graves that lie in cemeteries all around the Srebrenica region. Thousands of people were killed during the Balkan wars of the 1990s, but cemeteries with entire families of murdered Serb civilians only get visited by the very few remaining survivors. Brane Vucetic, one of the survivors, comes here all the time. His entire family lies here. He says a Bosnian Muslim general is responsible. "I was only nine years old when Naser Oric took away everything I had in life. First he killed my mother, then my father and brother. I was wounded and taken captive. They held me for 56 days, and only God knows how or why I survived," he says.But even though Brane survived, his loss – just like that of thousands of people here – is being ignored. "Oric was at The Hague Tribunal, and I was supposed to be a witness in his trial. But in the end, I and about 30 other witnesses were simply cast aside. They did not call us, did not ask what happened to our families. And the tribunal only gave him two years in prison!" says Brane Vucetic.The Balkan wars saw heinous atrocities visited on all sides and perpetrated by all players. But the version most often propagated by Western media is rather one-sided: in blaming the Serbs. "The purpose of that is to set the stage to create a rational for the so-called humanitarian interventions, which indeed occurred in a considerable number in the aftermath of Srebrenica," says researcher Stephen Karganovic of the Center for Research on Globalization.That so-called precedent can be traced through the years and into today's headlines. Bosnia, Iraq, Afghanistan and, most recently, Libya all played unwilling hosts to NATO troops and US-imposed no-fly zones."It is very important in the creation of that scenario to make sure that in the minds of most people that Srebrenica was a genocide, which was preventable, but for whatever reasons the so-called international community did not do anything about it," adds Karganovic.Some might say the journey from Srebrenica to Benghazi via Baghdad and Kabul could now be traced as a kind of NATO roadmap. But as with any road paved with good intentions, there is only one possible destination.