Kyrgyz President refuses to step down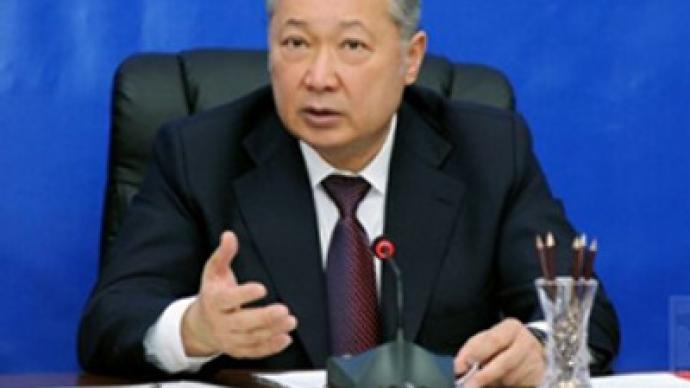 President Kurmanbek Bakiyev, who has been ousted from the government by the opposition and forced to flee the capital of Bishkek, has finally made a statement saying he will not step down.
Bakiyev did, however, confirm that control over the army and law enforcement was in the hands of the opposition. He added that from now on any possible destabilization of the situation in the country should be considered the responsibility of the opposition.
"I am aware of my responsibility as President of the Republic of Kyrgyzstan, and I am convinced that a country where power comes at the price of human blood can lose its national identity. I call on those who have started the chaos to think it over," Bakiyev stated.
Bakiyev also asked the international community to take the "critical situation in Kyrgyzstan" more seriously, saying that the country is facing a possible humanitarian crisis.
"I call on the people of the country to remain calm, reasonable and patient, and ask that we do not yield to the provocation," the statement concluded.
In a separate interview with radio Ekho Moskvy, Bakiyev hinted at the involvement of outside parties in the uprising.
"I will not name any particular country," he said "but this kind of co-ordinated operation is practically impossible to carry out without the involvement of outside forces."
He also firmly stated that he did not see the upheaval as his defeat. "I am the elected head of state, and will not admit to any defeat. I think that what these armed gangs have done is true bacchanalia and thus, do not see this as defeat. This is rather their defeat, because of what they have allowed to happen."
Read also – President of Kyrgyzstan Bakiyev Refuses to Admit Defeat or Resign
You can share this story on social media: