13 Bahrainis, teens among them, get life sentences for protest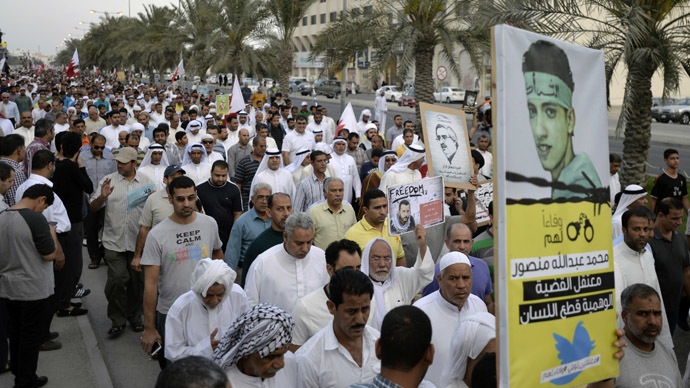 Thirteen Bahrainis, some of them teenagers, were jailed for life, after they were found guilty of trying to kill policemen by attacking their vehicle and of taking part in an illegal protest, according to their lawyer.
Another man was jailed for 10 years on the same charges.

All of the convicted were accused of attacking two officers in March 2012. The incident occurred as the group was allegedly throwing Molotov cocktails at police during a protest in the Shiite village of Bilad al-Qadeem, just outside the capital, Manama.

"Of course I am going to ask for an appeal," lawyer Mohammed Tajer told Reuters on Monday. "Most of the accused didn't even admit that they committed the crime."

Tajer said many of the defendants were 18 years old with the youngest among them being only 16.

In a similar case, 26 Bahrainis were sentenced to 10 years in jail each last week. They were accused of attacking a police station with petrol bombs and iron rods in Sitra in Bahrain's northeast in April 2012. A policeman was allegedly wounded in the incident.

A photo journalist Ahmed Humaidan was among those 26 convicted, according to the man's lawyer Fadhel Sawad, who said his client was innocent and had not even been present at the scene of the attack.

The 14 sentences, handed out on Sunday, come days ahead of Bahrain's Formula One Grand Prix, which has recently come to be associated with increased protest activity in the small island nation.

Anti-government activists have dubbed the Bahrain Grand Prix a "race for blood." The protesters claim the F1 event overshadows the ruling Sunni royal family's many human rights abuses and repression of the country's Shiite population.

The event was cancelled in 2011, the year activists launched massive protests against the monarchy. In 2012 and 2013 the Grand prix was held despite unrest.

Human rights organizations have during the last three years held Bahrain under fire for its brutal crowd-dispersal policies. A government tender seeking supplies of 1.6 million tear gas canisters and 145,000 stun grenades was leaked in June. The document suggested the country wanted more tear gas shells than the country's population of 1.3 million.

The US has however been reluctant to criticize its long-term ally, which hosts its Fifth Fleet.
You can share this story on social media: