Bahrain body count: Another protester dies in govt crackdown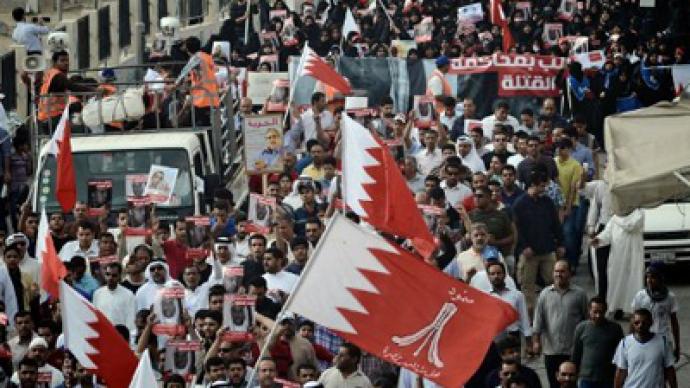 One more activist has died after inhaling tear gas during anti-regime rallies in Bahrain. Peaceful protests erupted in violence throughout the country Friday, resulting in brutal police crackdowns that used rubber bullets and gas to disperse crowds.
Anti-regime activists said that Ahmad Abdul Nabi was killed in the western village of Shakrakan during a clash with government forces. Police reportedly used a riot hose and tear gas to bring crowds under control, injuring dozens more.Demonstrators are protesting against the brutality of the security forces and call for the ouster of the ruling al-Khalifa regime.A 59-year-old woman, Abde Ali suffered the same fate on Friday after breathing in tear gas during a demonstration in village of Jidhafs near the capital.Following her death thousands of Bahraini citizens took to the streets to mourn those who had died during the protests.Anti-regime activists also released footage of a teenaged boy, bruised and handcuffed, whom they claim had been abducted and sexually abused by government forces.The 16-year-old was found in a store in the village Sanabis, outside of Manama, with his hands tied behind his back.Despite the ongoing reports of brutal government crackdowns since the beginning of the uprisings in the country in February 2011, the Bahraini government maintains it is implementing democratic reforms.They have also resolved to install video cameras in police stations to ensure that police abuse does not take place.Activists argue that this will have little effect.The UN estimates that about 13 people have been killed as a result of police brutality during anti-regime protests since the beginning of this year.
You can share this story on social media: