5 officers acquitted in Bahrain torture death case, 2 found guilty in separate murder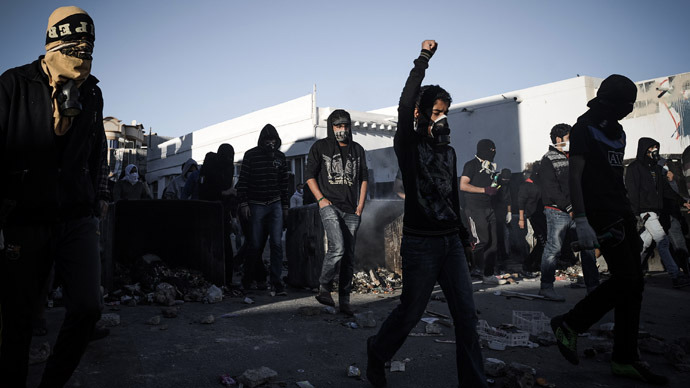 Two Bahraini police officers were sentenced to 10 years in prison after being convicted of torturing a Shiite protester to death. Despite the conviction, the officers and three of their colleagues were cleared in the death of another detainee.
The two policemen were convicted of "torturing to death Ali al-Saqr," who was arrested during the February 2011 uprising, a judicial source told AFP.

Saqr died on April 9, 2011, from "hypovolemic shock resulting from several traumas," according to a report by the Bahrain Independent Commission of Investigation (BICI), an international panel that investigated the events that unfolded during March and April of that year.

All five officers were found not guilty for the murder of another protester, Zakeriya Asheeri, who also died in 2011 while in detention. The three officers cleared in the death of Asheeri were also were also acquitted for "failing to report the crime" of Saqr's murder.

"For the 4th time in 3 months a police officer [is] acquitted for killing a civilian. #bahrain culture of impunity," Said Yousif Almuhafda, the head of the monitoring section at the Bahrain Center for Human Rights, wrote on Twitter on Tuesday.

In January 2012, the Bahrain Center for Human Rights characterized the proceedings as a show trial, saying that torture was systematically used in detention centers prior to the February 2011 uprising.

"The Bahraini government, however, continues to ignore calls from local and international organizations to hold any of the high rank officers accountable for the deaths of AlAshiri, Saqer and the other three men who have died under torture in custody. Instead it has resorted to bring cases of torture against low rank policemen who because of the systematic nature of torture in these institutions, if proven guilty, were following policy and not acting on their own account," the group said.

Several other officers are currently being investigated or standing trial on allegations of torture after hundreds of demonstrators were detained following a crackdown on the protest movement in mid-March 2011.

In late January, a court sentenced a police officer to seven years in prison for torturing a protester to death.

Complicity in torture expands beyond rank-and-file police officers, as Bahraini Princess Nora Bint Ebrahim Khalifa also appeared in court over torture allegations in January. Princess Nora, who serves in Bahrain's Drugs Control Unit, allegedly collaborated with another officer in the torture of three activists who had been taken into custody.

Two of the Bahraini King's sons – Nasser Bin Hammad Khalifa and Khalid Bin Hammad Khalifa – as well as one other member of the royal family, Khalifa Bin Ahmed Khalifa, were also accused of directly taking part in torturing activists in the country, a 55-page report titled 'Citizens in the Grip of Torture' charged.

Authorities in the kingdom have said they are implementing the recommendations of an independent commission of inquiry appointed by the king, which confirmed the use of excessive force by security forces during the uprising.

Bahrain – home to the US Navy's Fifth Fleet – is ruled by a Sunni monarchy, while over 75 percent of the population is Shia.

On February 14, 2011, thousands of protesters took to the streets of the capital Manama, demanding democratic reforms and the resignation of Prime Minister Khalifa bin Salman Khalifa, the longest-serving prime minister in the world.

Since the start of the uprising, opposition activists say at least 88 protesters have been killed, including nine children.
You can share this story on social media: