Baby trafficking for organs in Ukraine?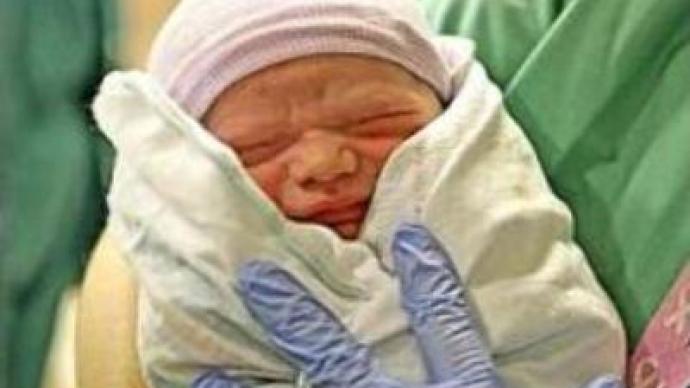 Ukrainian police are investigating allegations that newborn babies have been stolen from maternity hospitals for adoption or possible organ harvesting. A family has accused medical personnel of stealing and selling their child.
Some parents, who were told by the doctors their children were stillborn, have strong doubts. Natalya Bedrik, a mother who gave birth to a child in one of the Kiev maternity homes asked the deputy chief about her baby on leaving the institution.
"I was told my daughter was stillborn, but I wanted to see her anyway and bury her properly. The doctor said it was too late, and that they had already cremated the child. I asked who gave them permission. They looked scared, and hid their eyes from me,"
Natalya Bedrik says.
Soon after she left the maternity home an unknown woman started ringing their house saying they do not know the whole truth. It later transpired she was a retired chief doctor from the same hospital.
"I spoke to this doctor and told her to either stop calling or help us find the baby. She said if she reveals the truth she may be killed. I also spoke to the doctor who assisted my wife on that night. He said that our medical history was forged but that he will not repeat it anywhere else,"
Oleg Bedrik, the father of the "lost" child says.
The deputy chief who witnessed the case refused to comment on this. She did say though that the family never asked to see the baby and claimed the body only two months after its death. This fact is strongly denied by the parents.
Maternity homes used to keep newborns away from their mothers in separate wards. That has changed now. And so did the law, which now stipulates that mothers must be shown their children right at birth. The Bedriks's child was born before that law came into practice.
Doctors insist that the child is shown to either of his parents in any case.
"When a child is born we put it on its mom's tummy so she can see it straight away,"
Galina Alekseevna, children's doctor states,
"It is a rule. It is logical. Of course, if the woman is not feeling right, we will show a baby to its father. The same applies if the child is born dead. They must see it and sign for it. Otherwise we are not able to cremate or bury it".
Reports that babies may have been snatched at birth go back to autumn 2002. A few mothers from the city of Kharkiv said they gave birth to healthy babies only to have them taken away by maternity staff. Their newborns were later declared dead and the mothers were denied the chance to see them. That led them to suspicions that babies may have been stolen for illegal adoption or the use of organs.
Tatyana Zaharova, a campaigner from Kharkiv insisted on the exhumation of children to be able to prove the case. She says that in the grave they found 30 sets of remains, instead of the documented 28.
"How could this happen?"
she wonders,
"Where are the parents of these children? Did they give permission to have their babies dismembered? This is not a standard autopsy practice".
The ministry of health dismissed allegations of baby theft and the use of stem cells from the newborns. But the case of the Bedrik family is still open. The criminal investigation found one doctor guilty of negligence in helping the woman to give birth, but it stopped short in probing the death of a child.
As concerns the law, the foundation is not always enough to bring accusations.
"We cannot raise the question of where is the child,"
judge Valentina Dikalenko explains,
"It is not in our expertise. Medical certificates we obtained registered the death of a child. We know the mother says that she feels her daughter is alive but there is no substantial proof to that".
As for the ruling authorities, Ukrainian Prime Minister Viktor Yanukovich has confirmed his government is doing all it can to combat baby trafficking.
You can share this story on social media: