Authorities deny Jews right to mark Kristallnacht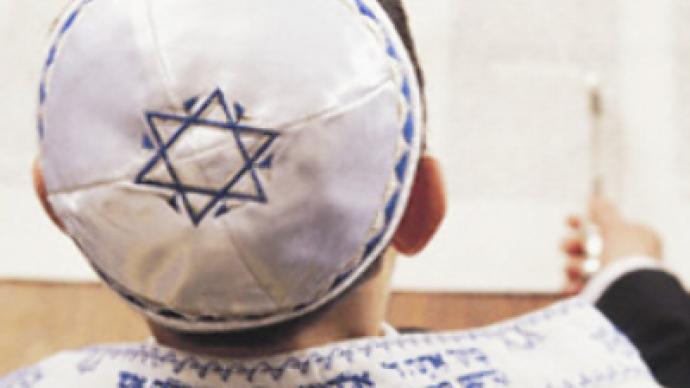 The debris from two days of organised violence against Jews in Nazi Germany almost seventy years ago has been discovered in what has been described as a major historical site.
An Israeli journalist named Yaron Svoray has uncovered the dumping ground for the destroyed remains of Jewish property plundered during the two nights of terror, commonly known as Kristallnacht (Night of Broken Glass).
Svoray was researching a different story on Nazi Luftwaffe commander, Hermann Goring, when he made the discovery. Acting on a tip off from a local man, Svoray uncovered an area, approximately 360m x 500m, in which he discovered, among other items glass bottles engraved with the Star of David, Mezuzahs (parchments of Hebrew verses), painted window sills, armrests of synagogues chairs and an ornamental swastika.
Although the journalist insisted that 'there are no real treasures here,' the exact location of the site, outside Berlin, has been kept secret for fear of neo-Nazi relic hunters.
"The locals of this site have been living with this dark hidden secret for 70 years," Svoray said. He also stressed the importance of an organised archaeological dig that would be required in order to unearth all the Jewish artifacts buried at the site.
As the 70th anniversary of Kristallnacht approaches, the German town of Gorlitz in the state of Saxony is refusing to allow its Jewish community to hold a ceremony marking the two nights of terror.
The small Jewish community of the town, numbering around 30 in total, had planned a ceremony in the local synagogue, the only synagogue in the entire state of Saxony that survived Kristallnacht. However, Gorlitz officials have instead made plans for a commemoration ceremony in the local Protestant church, which has traditionally focused on all victims of the Third Reich.
The Kristallnacht was a series of violent riots directed at German Jews between November 9 and 10, 1938. On a single night, 92 Jews were murdered and about 30,000 were arrested and deported to concentration camps.
The 48 hours of violence marked the beginning of the attempted systematic eradication of the Jewish people and acted as a prelude to the Holocaust that was to follow.
Germany in 1938 was already practising anti-Semitic policies under Adolf Hitler, but it was the shooting of a German diplomat in Paris on November 7, 1938, by a 17-year-old German Jew named Herschel Grynszpan that sparked the campaign of orchestrated violence.
Grynszpan, reportedly enraged by his family's expulsion from Germany, walked into the German Embassy in Paris and fired five shots at a junior diplomat, Ernst vom Rath. Two days later, the diplomat died from his wounds and violence and destruction broke out all over the Third Reich.
The Kristallnacht pogrom sparked international outrage at the time and discredited pro-Nazi movements in both Europe and America, leading to the eventual decline in their support.
Ciaran Walsh for RT
You can share this story on social media: