Plain packaging, graphic warnings: Australia fights nicotine addiction (GRAPHIC PHOTOS)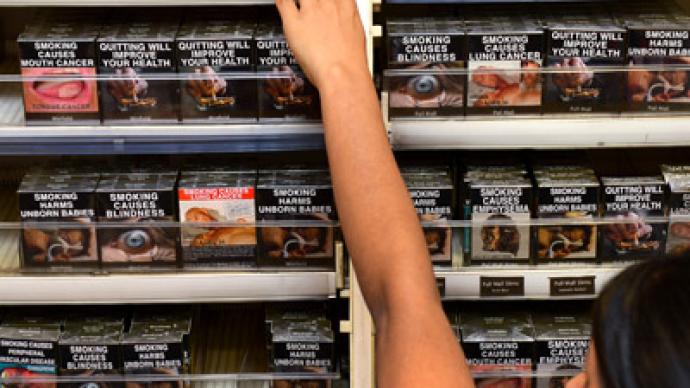 An Australian law has come into effect forcing cigarettes to be sold in plain packets to move away from brands' appealing designs and prevent young people from starting to smoke. Consumers have reported being disturbed by the accompanying images.
All types of cigarettes must now be sold in identical, olive-brown packets and covered with graphic health warning images, which must take up 75 per cent of the front of the pack.The only difference between the packages now are the brand names, which are all printed in identical small font.This is the first law of its kind in the world, making Australia the leader in the fight against smoking. Tobacco firms fought hard against this law, arguing that it infringes on intellectual property rights by banning trademarks on packages. The idea behind the new law is to lower the percentage of smokers in Australia, with research suggesting people would be put-off by the grotesque images. "It's likely to make people more aware of the health warnings," Stafford Sanders from Action on Smoking and Health (ASH) Australia told AFP. "And it will remove the potential for the packets to be used to mislead people. And it will deglamorize the packet."Australian Health Minister Tanya Plibersek revealed that the law was targeting the younger generation. According to statistics, 99 per cent of those who smoke pick up the habit before they turn 26.So "if we can prevent young people from taking it up, that's a lifetime gift to them," Plibersek said.
Bookshop supervisor holds packaged cigarettes have to be sold in identical olive-brown packets bearing the same typeface and largely covered with graphic health warnings, with the same style of writing so the only identifier of a brand will be the name on the packet, in Sydney on December 1, 2012. (AFP Photo/William West)Reaction to new lawMany Australians have found the images on the packaging disturbing, even though they have been displayed on packaging for some time along with the brands' logos.All the packets feature graphic images such as a gangrenous foot, mouth cancer or a skeletal man dying of cancer.A cashier in Sydney said that people were picking and choosing the packets, trying to settle for a less distressing image. Other smokers were reportedly buying cigarette cases in order to avoid looking at the graphic imagery. "This is good business for us," Sandra Ha from Zico Import Pty told The Guardian. Their family business has received high demand for items such as cigarette cases, silicon covers to mask the unpalatable packages. "Consumers hate it. I smoke and I hate it," retailer Anas Hasan told AFP.Sanders argued that to be upset or offended by the images is the appropriate response. "The images are supposed to be disturbing, to be confronting. They are supposed to have an effect," he said. "If the images stop one child from taking up smoking, hasn't it been worth you being offended by it?"
Photo illustration of new mandatory packaging for cigarettes sold in Australia November 29, 2012. (Reuters/Tim Wimborne)Yet there are those who did not express any emotion. "I'm a stressed out university student", said Louisa Brooks, 21, "I definitely am going to quit one day… I don't actually want to quit now."Australia has been successful in lowering the number of smokers in the country from 50 per cent in the 1950s to 15 per cent in 2012. The government's goal is to have the figure as low as 10 per cent in 2018. Tax rates also make tobacco products very expensive to purchase.Yet smoking remains one of the main causes of preventable death in Australia, killing about 15,000 every year. The tobacco industry has stated that the law would increase the black market trade and provide cheaper cigarettes by importing from China, for example. "There will be serious unintended consequences from the legislation," Scott McIntyre of British American Tobacco Australia told the Guardian. "Counterfeiters from China and Indonesia will bring lots more of these products down to sell on the streets of Australia." However, if a tobacco company were to breach the new law deliberately then it may face a fine of more than US$1 million.