Petrol bombs vs teargas: Thousands across Greece protest austerity measures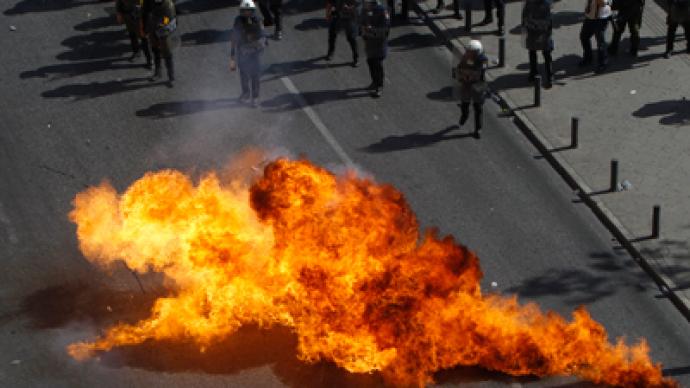 Youths have clashed with the Athens police force, pelting officers with stones and petrol bombs during an anti-austerity march. More than 40,000 have taken to the streets in Greece in a 24-hour strike against wage and pension cuts.
Anti-austerity activists faced down police officers, throwing Molotov cocktails and rocks in the center of Athens. Police responded by firing teargas and stun grenades into the group of adolescents to disperse them.Clashes erupted as protesters broke through a police line on central Syntagma Square. After the crowd was dispersed, the demonstration resumed peacefully.One person died during the protests. A 66-year-old man died, apparently of a heart attack, as he was taking part in the demonstration in Athens.Authorities have deployed 4,000 extra police throughout the Greek capital to maintain law and order during the protests.
Millions across Greece are participating in a mass 24-hour strike in a bid to convince politicians to let up on the latest round of crippling austerity measures.In Athens over 25,000 demonstrators took part in anti-austerity rally. In the country`s second largest city, Thessaloniki, some 17,000 marched to protest the cuts.The strike has led to grounded flights, closed hospitals and the mass shut-down of public services throughout the country.The Greek government is planning to introduce a new round of belt-tightening cuts, focusing on the public sector for 2013-14. They aim to qualify for a new bailout package of around 31 billion euro ($40 billion) to keep the country afloat for the time being. Critics of the 13.8-billion-euro ($17 billion) austerity package have warned that it will cripple struggling businesses that has thus far managed to cope with the financial downturn.
EU leaders gathered in Brussels on Thursday to discuss the unchecked financial crisis affecting southern Europe. Although no significant breakthroughs are expected to be reached during the two-day summit, the Union's richer nations will likely rally to support bailout measures.Greeks are facing social disaster as they are dealing with another wave of devastating cuts to wages, social protection and pensions, Panagiotis Sotiris told RT. "The Political class currently ignores all the signs that come from society and the same goes from the Troika and especially from the European Union. But they are just building up explosive material for next social explosions," he said. Sotiris, who took part in Thursdays protest, added that no policy can be maintained simply by being passed through parliament, if it has no legitimacy in society.He also expressed hope that the country's social crisis will eventually change course, relieving the pressures on young Greeks."We are having a lost generation. We have a generation that has no future. We have more than 50 per cent actual unemployment," he explained comparing the current situation with the Great Depression of the 1930s.Sotiris admitted that in society there is a lot of anger towards Germany and its chancellor Angela Merkel for pushing through tough austerity measures. This anger, he says, brings about the analogies with German occupation. Last week Athens saw active anti-German demonstrations as Merkel was visiting Greece. Protesters burned swastikas and chanted "Merkel, out of Greece!"
You can share this story on social media: