Assange to break silence as more countries rally behind Ecuador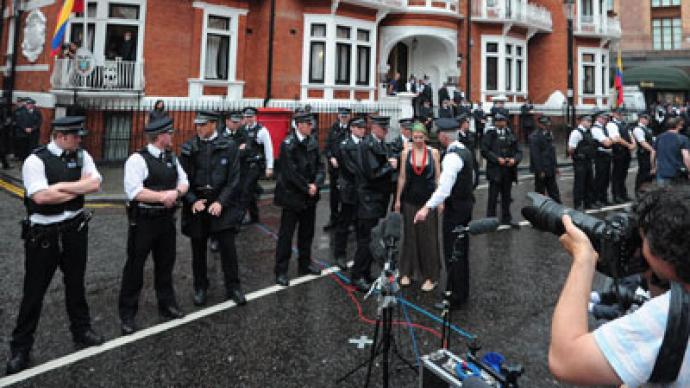 As Julian Assange prepares to make his first public appearance in months, London police are on high alert. Supporters have gathered below the embassy's balcony, where he is scheduled to make his statement.
Assange has announced that he will give a public statement at 1 pm GMT. It is unlikely, though, that he will leave the safety of the Ecuadorian Embassy, where he has been granted political asylum. London police are on a 24-hour watch outside the building, ready to arrest Assange as soon as he leaves, as Britain does not recognize Assange's asylum status and is still determined to extradite the "alleged criminal" to Sweden. "Julian Assange has always fought for justice", Assange's lawyer Baltazar Garzon said ahead of a planned statement by the WikiLeaks founder. Speaking to journalists in front of London's Ecuadorian Embassy, Garzon said that Assange is thankful to the people of Ecuador, and appreciates being granted asylum by the country and its government."Julian Assange has instructed his lawyer to carry out legal action in order to protect the rights of WikiLeaks, Julian himself and all those currently being investigated," Garzon said.Former British Ambassador to Uzbekistan Craig Murray appeared in front the embassy to deliver a statement of support."We need whistleblowers more than ever to protect the right of all of us," he said.Murray slammed the UK's threat to arrest Assange by storming the Ecuadorian embassy, saying that if "the metropolitan police enter the Ecuadorian embassy" this will be a crime committed "under Ecuadorian law.""Even during the height of the tensions of the cold war, the opposing parties never entered each others embassies to abduct a dissident," he said.Fashion designer Vivienne Westwood also made a show of support for Assange. Though she was not present at the embassy, a representative read a statement she had written."Through WikiLeaks, Julian Assange continues to expose the lies and distortions of the authorities. His fight is our fight. It is a fight for freedom. Freedom for information. We are Julian Assange. I am Julian Assange. With love, from Vivienne," the statement said.New information came to light on Sunday about a possible deal between Assange and Sweden. If Stockholm issues a guarantee that it will not extradite Assange to the US, he will comply with country's request to question him on Swedish soil, WikiLeaks spokesperson Kristinn Hrafnsson told AFP."It would be a good basis to negotiate a way to end this matter if the Swedish authorities would declare without any reservation that Julian would never be extradited from Sweden to the USA," Hrafnsson said.
During the night before Assange's address officers were set on high alert, reportedly demanding identifications from everyone entering or leaving the building. Officials refused to reveal the name of the commanding officer who originated the order, WikiLeaks said on Twitter.Ecuadorian President Rafael Correa slammed Britain's attitude toward his country as "unacceptable" and "intolerable," pledging that Assange can stay indefinitely in Ecuador's London embassy until the UK guarantees him safe passage.Meanwhile, the threat that British authorities could decide to storm Ecuador's embassy to extract Assange "still stands," Ecuadorian Foreign Minister Ricardo Patino said on Saturday.Patino noted that the memo his country's embassy in London had received on the eve of the announcement on Assange's asylum in Ecuador was a clear threat. "I think that all of you had access to the written text we had received from the Embassy of the United Kingdom, everybody knows it," Patino said on Friday. "One doesn't have to read between the lines, one has to read directly to understand that they say that they will enter the embassy to capture Mr. Assange despite the decision of the Ecuadorian government."The note in question – an aide memoire – refers to the Diplomatic and Consular Act of 1987 as saying that UK authorities have a right to revoke diplomatic immunity from a foreign mission on British soil. This would mean that the police would be able to enter the embassy and arrest Assange in order to extradite him to Sweden, where he is wanted for questioning in a sex assault case. The note was sent with the consent of British Foreign Secretary William Hague, despite concerns by lawyers in his legal department that it could be incendiary.  Ecuador reacted to the note with anger and dismay, noting that it was "not a British colony" and that breaking into the ambassadorial premises of a foreign state was a "flagrant violation" of the Vienna Convention on Diplomatic Relations. "They're out of touch," President Correa said in his weekly Saturday address, as quoted by Reuters. "Who do they think they're dealing with? Can't they see that this is a dignified and sovereign government which will not kneel down before anyone?"He stressed that Latin America is "free and sovereign" and would not put up with "meddling" and "colonialism."Latin America sends resounding response to perceived British threatIn response to the purported threat to storm the country's embassy in London, Ecuador convened a number of regional meetings. On Saturday, Ecuador hosted a representative-level meeting between the nations of the Bolivarian Alliance for the Peoples of Our America (ALBA). The bloc, made up of eight countries in South America and the Caribbean, adopted an eight-point resolution condemning Britain for its "intimidating threats" to violate "the principles of sovereignty and territorial integrity," Ecuadorian newspaper El Telegrafo reports. The resolution also warned the British government of the "serious consequences" it would face should it act on its threats. The document also reaffirmed Ecuador's sovereign right to grant asylum to Assange. The regional bloc's representatives considered it relevant to bring the issue of the inviolability of diplomatic premises in the United Nations, as well as other regional bodies, such as UNASUR, an economic bloc of South American nations set to meet Sunday to discuss the issue. On Friday, representatives of the larger Organization of the American States (OAS), which envelopes countries from North, Central and South America, decided to hold a foreign ministers' meeting on issues related to the Assange case. An overwhelming majority of the countries attending the meeting voted in favor of holding the foreign minister-level discussion, with only three of the 31 voting against. Among those who opposed it were the United States and Canada, who argued that the Assange case should be an issue strictly between Britain, Sweden and Ecuador. But others saw a broader threat in Britain's warning to Ecuador.  "The central issue is not the right of asylum, it is the inviolability of embassies," OAS Secretary General Jose Miguel Insulza stated.
You can share this story on social media: