Tunisian president to Assange: I'm still a human rights activist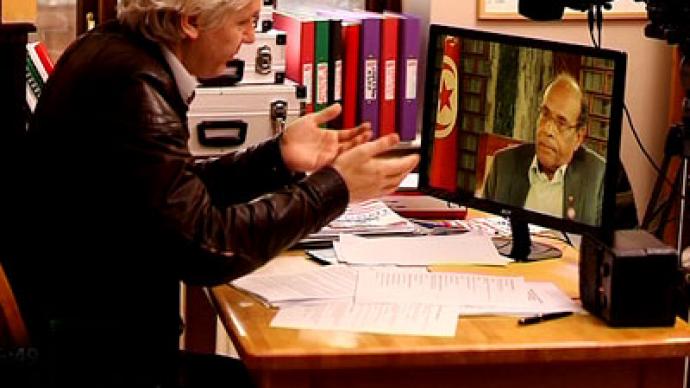 The transformation of Tunisia after the revolution is far from complete. Imprisoned under the previous dictatorship, and now facing the realities of power, President Moncef Marzouki has vowed to protect human rights in the new Tunisia.
Watch the full show on RT's video page Despite the fact that he is the head of state now, Moncef Marzouki still is and always will be a human rights activist. He has vowed to stick to his opinions, which he believes is what people are expecting from their new president."I'm still the same person," he said. "I still believe in my values and I try to be faithful in these values."However, he says it is very difficult to conciliate the human right activist opinions and the political duty. As an example of such an inner conflict he recalled the situation with the former prime minister of Libya, Al-Baghdadi Ali al-Mahmoudi, who is being held in jail in Tunisia. The fugitive politician is sought by the Libyan NTC, but so far Marzouki is refusing to extradite him, believing he could face an unfair trial in his homeland."I'm facing huge pressure from outside and inside the country to give this man to Libya, and I have every day to say 'No, no, we have to stick to our position,'" Marzouki said. "You know, he is in Tunisia, having a hunger strike because he is asking for his release."
'I am serious – no more torture in Tunisia'
Some of the Marzouki's political opponents, like the Salafist movement, are not accepting any kind of political discussion as the means of tackling the difficulties. But although the problem is very serious, it is important to stick to human rights values, Marzouki believes."When I talk with the police and the army leaders I said 'Look, we have to take this problem very cautiously, but please no more torture and no more unfair trial like we have had under the dictatorships,"" Marzouki said. "They watched me – maybe, you know, wondering if I was serious – and I said 'Yes, I am serious – no more torture in Tunisia.'"Four years ago Marzouki refused to meet an "important person in the White House" to talk about the human rights issues in Tunisia, because he believed the man was implicated in the Guantanamo Bay controversy."When you have torture under the dictatorship it seems so normal," Marzouki said. "Of course it's not normal, it's horrible. But when you have these kinds of problems under a democratic state and when you face people, coming from this government talking about human rights and so forth, it seems so ridiculous."The president himself spent four months in solitary confinement back in 1993, and he considers this experience to be a terrible psychological torture, probably one of the worst possible tortures."After just four months I was just talking to myself, you know, I really got crazy," Marzouki explained. Marzouki says he never understood people who can hold the torture and then go back to home and "have a normal life.""How can you accept to do things like this and be sure that you are still a human being?" he asks. "Those people, because they just accept to obey the dictator, they give up everything – their humanity, their honor."
'Side-effects of total freedom of expression better than censorship'
Marzouki believes that censoring the internet is not only impossible, but also useless and counter-productive."As a human rights activist, I prefer the side-effects of total freedom of expression to 'the good effects', if I may say – to the censorship," he said. "So, I always said I'm against any kind of censorship on internet or on any other way of expression." However, Marzouki is not so open-hearted about the inner secrets of the previous regime.After the Egyptian revolution the country's Secret Service archives were looted and the files leaked to the public, which became the end of Ad-Dawla secret police. In case of Tunisian secret archives, Marzouki is not planning to open them completely – just enough for historians to draw a general picture of what was happening and how the system worked."It is important to know, to remember, but sometimes it is also important to not know and to forget," he said. "I have got some files about political opponent and I said 'I'm not going to work with this kind of card, I'm not going to threaten this guy with this kind of tools.' I'm not interested in threatening my political opponent by the same tools that were used against me."
'Syrian dictatorship – just like toppled Tunisian one'
The Syrian people are suffering exactly the same kind of dictatorship Tunisians had suffered before the revolution, Marzouki believes. And Tunisians feel themselves somewhat responsible for what is happening now in Syria."I can say that if we didn't have the revolution here in Tunisia probably it wouldn't happen in Syria or in Egypt," Marzouki explained. "So we feel this kind of responsibility."Marzouki said that those Tunisians who support the Syrian "patriotic" dictatorship just do not understand that there is no such thing as a good dictatorship.On the other side, a foreign intervention of any kind including provision of weapons to the opposition to fight brutal and corrupted regime is not a solution, Marzouki says, because it will only lead to civil war.
You can share this story on social media: