Assange's $4.5-million lockdown: UK police spending huge sums on 24-hour patrol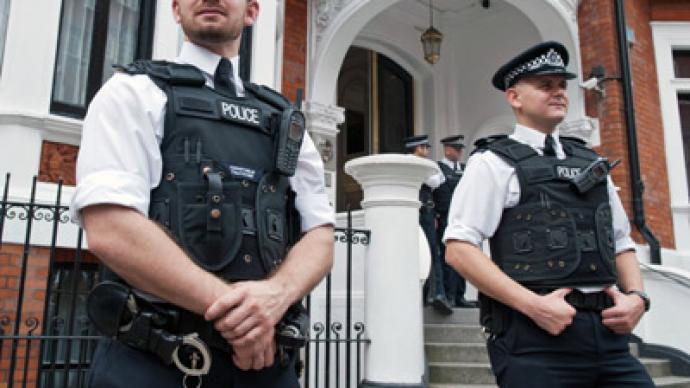 British police have already spent some $4.5 million in patrolling for WikiLeaks founder Julian Assange, eight months into his confinement at the Ecuadoran Embassy in London, Scotland Yard says.
Some $3.5 million of that cost was salary for the police officers patrolling the embassy; the rest is overtime payments.A 24-hour watch on the embassy was imposed in June, after the whistleblower secretly went there to request asylum.On June 19, Assange fled the London home where he was under the house arrest and breached his bail conditions by escaping to the Ecuadorian Embassy, where he applied for political asylum. London police immediately cordoned off the building, and a round-the-clock police patrol has been stationed outside the embassy ever since.The Ecuadoran government is concerned with the significant cost of the affair to British taxpayers, a spokesperson for the embassy said."However, we believe this expenditure could be avoided if the UK Government would provide the undertakings that the Ecuadorian government has sort that there will be no onward extradition of Julian Assange to the United States," the spokesperson added.In June, the UK Supreme Court denied the WikiLeaks founder's appeal to reopen his extradition case, meaning he would be extradited to Sweden where he is wanted for questioning for sex crime allegations.Fearing that upon his extradition to Sweden he would be immediately re-extradited to the US – where his lawyers say he may face the death penalty – Assange fled his house and requested political asylum from Ecuador. Although the asylum was granted in August, the whistleblower still remains holed up at London's Ecuadorean Embassy, as the UK has denied him safe passage out of the country.
You can share this story on social media: