Cashed his check: Assange bio anger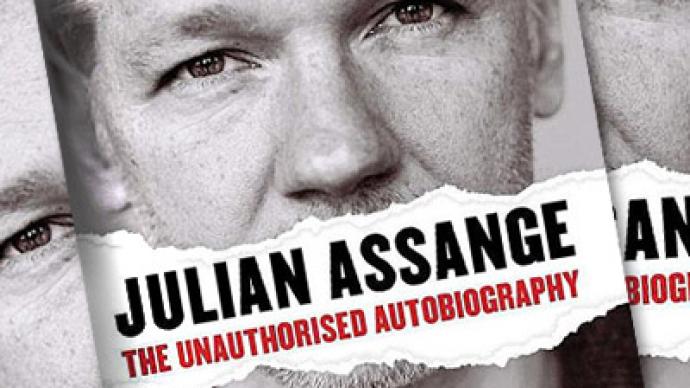 WikiLeaks founder Julian Assange has condemned a UK publisher for its unauthorized release of his "autobiography". The publisher cites the money paid as an advance to the whistleblower as enough to liberate it from Assange's disapproval.
­Canongate, an Edinburgh-based publisher, makes no secret of the copyright details. The book Julian Assange: The Unauthorized Autobiography, tracking Assange's life from his Australian childhood to the founding of the secret-spilling website, has officially gone on sale in stores and online on Thursday.Enraged by the publication against his will, Julian Assange accused Canongate of "profiteering from an unfinished and erroneous draft." "The events surrounding its unauthorized publication by Canongate are not about freedom of information, they are about old-fashioned opportunism and duplicity. Screwing people over to make a buck," Assange told the Associated Press, stressing the publication is a breach of contract. According to Assange, his manuscript was handed over to the publisher "for viewing purposes only" and was not intended for release at all. But Canongate, which paid Assange for the rights to the biography in December last year, claims that after some 50 hours of interviewing with a ghostwriter The WikiLeaks founder backed out and tried to cancel his contract. Nevertheless, the infamous hacktivist has failed to repay the advance, which Assange himself had said would bring in over $500,000. "He had already signed his advance over to his lawyers to settle his legal bills," says the publisher in their official statement. "We have decided to honor that contract and to publish. Once the advance has been earned out, we will continue to honor the contract and pay Julian royalties."Canongate adds that 38 publishing houses around the world have committed to releasing the book. 'Chauvinist pig', but no rapist­Assange's biography, abundantly cited by The Independent newspaper, unveils the whistle-blower's dramatic path from a teenage hacker to news headliner, among many facts offering details on the situations which led to his extradition hearing in the UK.Thus, the autobiography claims that each of the two Swedish women, who are now suing Assange on sex charges, entered relations with him "willingly and were happy to hang out with [him] afterwards.""I may be a chauvinist pig of some sort, but I am no rapist," continues the book, acknowledging that Assange paid little attention to the two ladies after spending time with them. The story-teller broods over thoughts as to whether the sex charges that followed might be the result of "a terrible misunderstanding that was stoked up" between his complainants rather than any intelligence services plotting against him.Julian Assange burst into the limelight after publishing a series of secret US materials on his site WikiLeaks, unveiling some 250,000 classified State Department cables among them.The spectacular leaks were followed by financial and legal troubles, including the allegations of rape and sexual misconduct made against the 40-year-old Assange last year by two Swedish women. This lead to Assange's arrest and brief imprisonment in the UK in December. At the moment, Assange is out on bail, expecting a court's decision on his extradition to Sweden.