Assange blasts 'perverse transnational totalitarianism' – interview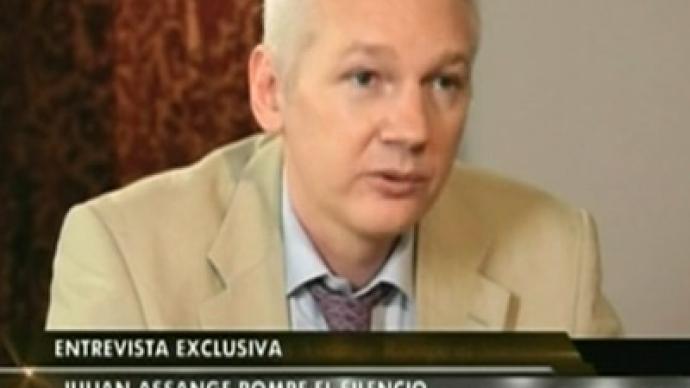 The West's "perverse" empire is leading to the collapse of human rights, WikiLeaks founder Julian Assange said. The whistleblower, currently holed up in the UK's Ecuadorian embassy, expects to leave in a year if Sweden drops its case against him.
"The Swedish government could drop the case. I think this is the most likely scenario. Maybe after a thorough investigation of what happened they could drop the case," Assange said, adding that he hopes his case will be solved through diplomacy "in between six and 12 months."During the interview with Venezuelan TV station teleSUR from London's Ecuadorian Embassy, Assange condemned an "avalanche of totalitarianism" incited by the US government. He argued that democracy in Western countries is an illusion, and that the constant surveillance of citizens is leading to the creation of a "transnational totalitarian state.""This is an international phenomenon that isn't just happening in the US, it's bigger than the US and it's taking us to a dark place," Assange said. He alleged that human rights in the West are undergoing a severe deterioration, and that the public is being influenced by "massive press manipulation."Though the US denies the existence of a Supreme Court espionage case against Assange, there is overwhelming evidence that they are preparing such a lawsuit, he said.Likening the US reaction to the leaking of thousands of diplomatic cables to a playground spat, Assange claimed that he is part of a larger US crackdown on WikiLeaks. He believes the US first moved against his organizations over information they published on civilian deaths in Afghanistan."The US armed forces have assassinated thousands of people [in Afghanistan], and indirectly 20,000 people according to its own files. … They have spilt the blood of men, women, children and their own soldiers over Afghanistan," he said.Though no government has charged WikiLeaks with any deaths, the US maintains that the organization "might have blood on its hands.""It's the same as a fight between primary school children. They say that WikiLeaks says that the Pentagon could have murdered thousands of people, so in answer they say that WikiLeaks may have blood on its hands," Assange said.Assange praised Ecuador for making the "right decision" in granting him asylum, and expressed gratitude to the Latin American nations that had rallied to his support. He dismissed the charges of sexual assault leveled against him, and alleged that Sweden was acting at the behest of Washington and would push to have him extradited to the US.In an unprecedented move, Assange appealed for asylum at London's Ecuadorian embassy in June, on the grounds of political persecution. Although the Ecuadorian government granted the appeal, the WikiLeaks founder is effectively stuck in the Embassy – UK authorities have vowed to arrest him if he leaves the building. The UK government claims it is obligated to comply with the Swedish extradition order that has been issued against Assange.
You can share this story on social media: