Ecuador recalls ambassador for Assange advisement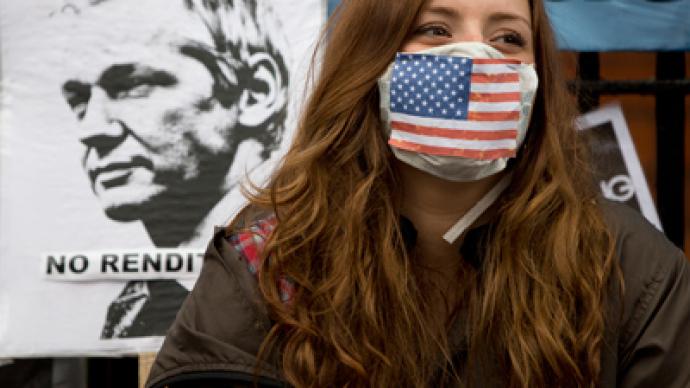 Ecuadorian President Rafael Correa has recalled his ambassador to the UK in order to discuss the case of Julian Assange. The asylum bid is being analyzed without concession to foreign pressure, but with caution to "other countries'" opinions.
"We are calling our ambassador back for consultations because this is a very serious matter," Correa said Friday. "We are going to proceed cautiously, responsibly and seriously in this case, without bowing to absolutely any pressure."
Ecuadorian authorities are assessing if there is a real threat to Assange's life. President Correa says if he finds there are strong grounds to Assange's fears of being extradited to the US, he might decide the whistleblower needs protection."We have to see if there is any death threat against Julian Assange. We have to analyze his reasons for requesting asylum if has due process. Ecuador is a country that rejects prosecution for ideological motives," said President Correa.Ecuadorian envoy Ana Alban had met earlier with British authorities to ascertain their point of view."We will take it into account, but Ecuador will make the final decision," Correa added. "We don't wish to offend anyone, least of all a country we hold in such deep regard as the United Kingdom. We are going to have to discuss with and seek the opinions of other countries."President Correa said his country would discuss also the case with Sweden and the US. Still, it is too early to talk about a "safe passage" out of the country for Assange, since the final decision has not yet been made, pointed out the Latin American leader.Sheltering Assange may pose risks for Ecuador. Analysts suggest that Ecuador's trade with the US and consequently thousands of jobs may suffer immensely if the Latin American country approves the whistleblower's request.The WikiLeaks founder arrived at the Ecuadorian Embassy in London seeking political asylum four days ago, breaking the conditions of his bail. British police are determined to arrest him as soon as he steps out of the front door of the embassy, whether he is granted asylum or not.
In an interview with Australian Broadcasting Corp radio on Friday, Assange accused Washington of building a plot to bring him to the US. Assange hoped his dramatic move would at least "draw attention to the underlying issues," as the Australian government had made an "effective declaration of abandonment" by not intervening in British court procedures.Rejecting reports that the decision on granting asylum might be expected soon, President Correa acknowledged that Ecuador will take all the time necessary to verify the reasons presented by Assange."Ecuador is a country which defends the right to life," he said. "We have to see whether there is a threat to Julian Assange's life."
You can share this story on social media: