UK shells out over $8mn to monitor Julian Assange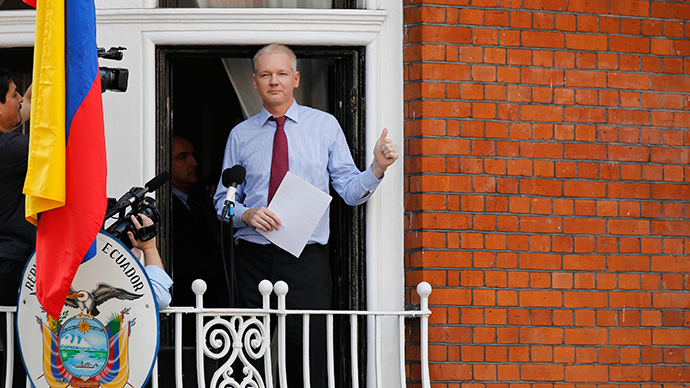 The UK has spent over $8 million on monitoring the Ecuadorian Embassy in London, where Julian Assange has been holed up for 20 months. His stay is having a knock-on effect on British taxpayers, reportedly costing them over $16,000 a day.
In response to a Freedom of Information request filed by the Huffington Post UK, the London Metropolitan Police revealed the financial consequences of Assange's stay in the Ecuadorian Embassy. The WikiLeaks founder entered the Embassy in June 2012 in a desperate plea to avoid his extradition to Sweden, where he is wanted for questioning over accusations of sexual assault.
This Day in #WikiLeaks: £5.3m spent on police surveillance of Ecuadorian Embassy; Cables, interview with Moazzam Begg http://t.co/MoasbE36az

— WikiLeaks (@wikileaks) February 25, 2014

London Police have maintained round-the-clock surveillance on the Ecuadorian Embassy since Assange's arrival, which cost a total of 5.3 million pounds ($8.3 million) between June 2012 and December 2013. According to data released by the MET Police, around 900,000 pounds ($1.5 million) were paid out in overtime wages to officers.

If Assange stays in the Embassy building until 2022 – when the statute of limitations on his extradition request expires – it could cost the London police about 36.5 million pounds ($60 million), reports the Huffington Post UK.

Assange has essentially been imprisoned in the Ecuadorian Embassy as UK police have resolved to arrest him and extradite him should he set foot outside the building. Moreover, Assange believes that once in Sweden, the authorities would hand him over to the US, where he could potentially be tried for espionage in connection with the thousands of classified diplomatic cables divulged by WikiLeaks.

At the beginning of this month Swedish MPs urged prosecutors to visit Assange's de facto home in Ecuador's London embassy to question him, arguing that the whistleblower will not come to Sweden voluntarily.

"It is in the interest of everyone involved in this process that the prosecutor reaches a conclusion to either file charges or dismiss the case, and it is obvious that Assange will not come to Sweden," Staffan Danielsson, from the Center Party, said in a statement.

However, Swedish prosecutors have criticized MPs for overstepping the mark and interfering in the course of justice.

"The fact that an MP openly questions a prosecutor's decision- making in an individual case is remarkable," said Anders Perklev, the Swedish Prosecutor-General. "It violates the foundation of power division between the legislative and the executive authorities in Sweden."

Assange has been accused of rape by one woman and charges of sexual assault by another in connection with a trip to Sweden in 2010. The whistleblower denies the charges against him.
You can share this story on social media: