Assad to Turkey: Sorry about the downed jet, it could have been Israeli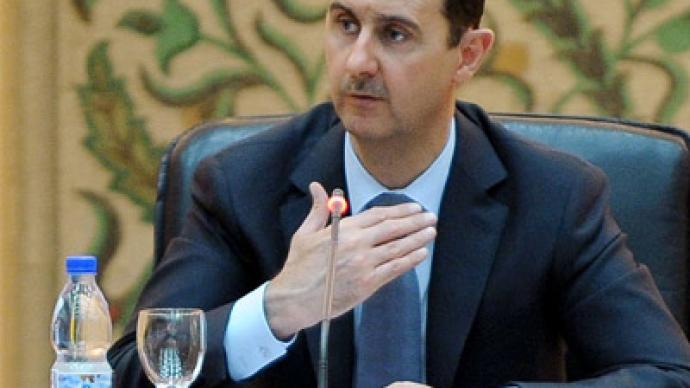 Syrian President Bashar al-Assad has told a Turkish newspaper he regretted the downing of the Turkish military plane, which escalated tensions between the two countries.
"We learned that it (the plane) belonged to Turkey after shooting it down. I say 100 per cent 'I wish we had not shot it down'," the Cumhuriyet newspaper quoted Assad as saying in an exclusive interview published on Tuesday."The plane was using a corridor which Israeli planes have used three times before. Soldiers shot it down because we did not see it on our radar and because information was not given," the Syrian president explained."Of course I might have been happy if this had been an Israeli plane," Assad said.Syrian troops shot down a Turkish RF-4E reconnaissance jet after it crossed into Syrian airspace on July 22. The incident sparked high tension between the two countries, with both building up forces in border areas.Ankara says the plane was doing a test flight and was downed after it went back into international airspace. It says it was an act of aggression against Turkey. Damascus insists that the aircraft was engaged by air defense forces while still over Syria proper. It sees the downing as an act of self-defense.Assad assured the newspaper that if Turkey is right about where the incident took place, Syria would not hesitate to apologize accordingly."We will not allow (the tensions) to turn into open combat between the two countries, which would harm them both," he assured.Assad also touched upon the results of the Geneva talks last Saturday, voicing satisfaction with the proposal to create a transitional government consisting of current authorities and opposition leaders.When asked if his resignation is possible, Assad said he would be ready to leave only if he was sure that the move would solve the crisis in Syria. "If saving my people and my country depends on my staying or leaving, then why should I hang on? I would not stay even a day longer. But if the opposite were true; if the people do not want me then they have elections. If the people so choose they can send me packing," he was quoted by the Cumhuriyet newspaper as saying.But such a decision, he added, should be made by the people of Syria through democratic elections.Cumhuriyet did not specify exactly when the interview took place.
You can share this story on social media: