US post-Assad Syria plan: Intervention in the cards?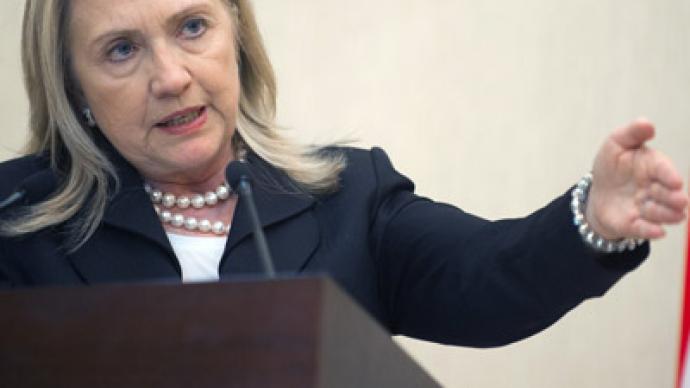 Hillary Clinton has put forward a new plan to remove Syrian president Bashar al-Assad from power. Echoing recent US threats to take action on Syria independently of the UN, the plan's announcement coincides with yet another tragic massacre.
As the violence in Syria worsens, Washington has been ramping up threats to intervene without UN approval in the absence of international consensus. US Ambassador to the United Nations Susan Rice, speaking to reporters after the Houla massacre, bluntly called on the UN Security Council to "assume its responsibilities", saying that if the violence continues, "then members of this council and members of the international community are left with the option only of having to consider whether they're prepared to take actions outside of the Annan plan and the authority of this council.""This council has a responsibility to act and act swiftly and surely," Rice said. "And if we don't, then we are all resigning ourselves to a third scenario, which we still hope to avoid."Now, as reports of a new massacre emerge from Syria, State Secretary Hillary Clinton has announced a new transition plan that would remove Assad from power completely, possibly signaling the US is ready to make good on its threats to go it alone.In Istanbul, a meeting was held on the sidelines of the Coordination Committee of the Global Counterterrorism summit with top representatives from Turkey, France, the UK and Arab nations on Wednesday. Conspicuously absent were representatives from Russia and China, the two biggest opponents of foreign intervention in Syria. During the meeting, Hillary Clinton outlined a peace plan for Syria which included a full removal of Assad from power. The US State Department sees Syria without Assad as a prerequisite to any solution to the crisis, a position that Russia and China oppose."Tonight the secretary laid out a set of essential elements and principles which we believe should guide that post-Assad transition strategy, including Assad's full transfer of power," a US State Department official told reporters in Turkey.The proposal completely ignores Kofi Annan's six-point peace plan, approved by the UN and the international community. The plan, which called for an immediate cessation of hostilities, a Syrian-led dialogue to resolve the crisis, unrestricted access to humanitarian aid, and freedom of movement for journalists has been the only proposed solution that has met with Russian and Chinese approval. However, its effectiveness has been questioned, with neither the opposition nor Assad adhering to it.Russia and China have steadfastly opposed any foreign intervention in Syria and support the Annan plan, repeating their position together at this week's Russia-China political summit in Beijing. Moscow has also called for Iran and Turkey to be brought into the Syria discussion, claiming any conversation without them would be too one-sided, and criticized the 'Friends of Syria' meeting to be held in Paris on July 6th, saying that without proper representation from all sides, such a summit would serve limited interests."We believe it is necessary to assemble a meeting of states with real influence on different opposition groups. There are not that many," Russian Foreign Minister Sergey Lavrov said in Beijing.That position has been echoed by Annan himself, as the international envoy announced he will be creating a "contact group" of world powers and key players in the region to come up with a new strategy for ending the conflict. The group would include Iran, and its final proposal must be approved by western countries, as well as Russia and China, the Associated Press reports."Moscow is not trying to keep Assad in power, his fate is in the hands of the Syrian people," said Deputy Minister of Foreign Affairs Mikhail Bogdanov.
All in the timing?
Clinton's announcement comes amidst the news of more tragic violence in Syria. In what is being called a new massacre, reports on Thursday claimed that some 100 people, many of them women and children, were killed in the Hama region. The opposition says that Syrian security forces are responsible, while Damascus has accused rebels of perpetrating the heinous massacre themselves to try and garner support for foreign military intervention. Neither story can be independently confirmed.However, the timing of this new massacre has some analysts curious. Lajos Szadszi, a political and international affairs analyst told RT in an interview that the victims in Hama "may have been killed by rebels to blame it on the government and try to trigger an international intervention, which is something that the rebels want…There are members of the armed opposition inside Syria who are very unscrupulous. They don't want to go back to a situation in which they might have to entertain the possibility of negotiating with the government in Damascus. They just want to remove the government by force."Washington has made its desire for larger intervention in Syria clear, with Senator John McCain publicly calling to arm the rebels last week. The US has a history of ignoring the UN Security Council if international consensus does not coincide with American interests. "It's been used by the United States, I think, as a fig leaf, to get multilateral approval on policies that the US wants to do," Ivan Eland, Director of the Center on Peace and Liberty in Washington D.C. said of the Security Council."But if the UN doesn't agree with the United States as in the case of Iraq or Kosovo, the United States just disregards it."While there is speculation that Hillary Clinton's transition plan may be an attempt to gain Russia's approval on a new course of action, it remains to be seen how far the US is willing to go without international support on Syria.
You can share this story on social media: