'US fueling conflict, destabilizing Syria' – Assad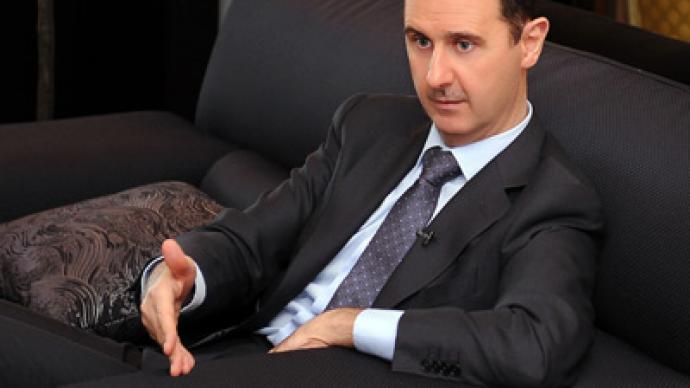 The US government is providing its political support to the Syrian opposition and purposely destabilizing Syria, said President Bashar al-Assad in an interview. He praised Kofi Annan's peace plan, but said foreign interests were impeding its success.
The Syrian President gave a rare interview to German news broadcaster ARD during which he addressed western political rhetoric that he was the main obstacle for peace in Syria.Assad said he still enjoyed public support in Syria, but "the United States is against me, the West is against me, many regional powers and countries and the people are against me."When asked whether or no the US had a hand in the conflict that has wracked the country for the past 16 months, he stressed they were "a part of the conflict.""They offer the umbrella and political support to those gangs to create instability (destabilize) or to destabilize Syria," Assad told ARD.Assad further blamed armed gangs for the mounting death toll of the Syrian conflict.  The UN estimates at least 10,000 people have been killed since violence first erupted in March of last year.These gangs are an amalgamation of al-Qaeda terrorist cells, outlaws and police fugitives who have eluded law enforcement authorities for years, said Assad. He added that "they had killed more security and soldiers maybe than civilians."The President categorically denied claims that Syrian government troops were behind the massacre in the city of Houla where over 100 civilians were killed.   "Gangs came in hundreds from outside the city and attacked law enforcement units… then they killed many families, children and women," said Assad. He went on to say that the gangs were wearing army uniforms to try and incriminate the Syrian government, a well-known tactic used by opposition forces in Syria.
'Kofi Annan's plan shouldn't fail'
Al-Assad praised UN-envoy Kofi Annan's peace plan and said he was doing "a difficult but good job.""The main obstacle is that many countries don't want to succeed. So they offer political support and they still send armaments and send money to terrorists in Syria. They want it to fail."At a conference in Geneva last week, Kofi Annan but forward a new plan stipulating a unity government in Syria, including opposition members and excluding political figures that put the country's stability at risk.Assad said the idea of a unity government was flawed in that it did not define the nature of the Syrian opposition."We may have tens of thousands, hundreds of thousands or millions – could they participate? This kind of government, the democracy, needs criteria and needs mechanism," stressed Assad.
Not another Egypt or Libya
The President dismissed fears that Syria would follow the same path as Egypt and Libya, maintaining that Syrian policies differed from those of their Arab neighbors.He said that the Syrian conflict needed to be treated differently from the other Arab conflicts. Referring to the Egyptian revolution, he said "it was a completely different situation" to Syria due to the historical context and social factors that separate the two countries.He decried the execution of former Libyan leader Colonel Al Gaddafi as a crime that was unacceptable.
Two-sided solution to conflict
Al-Assad concluded that the solution to the Syrian crisis had two axes. The first of which is the fight against terrorism in Syria as the country's armed groups are not willing to open dialogue with the government.The second solution is "dialogue with different political components and at the same time to have reform" involving all groups that are prepared to cooperate. "The people will decide who should be our representative," said Assad.
You can share this story on social media: