Assad: Significant chance I will stand for next elections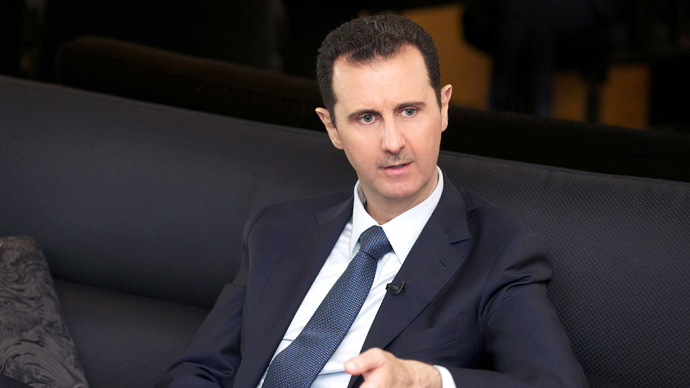 President Bashar Assad said in an exclusive interview to AFP that he has decided to participate in Syria's future presidential elections. He also stressed that the War on Terror should be the major focus of the Geneva 2 peace conference.
With the Geneva 2 peace talks starting on Wednesday, January 22, Assad set the record straight on what he and his government expect from the negotiations with the Syrian opposition in Switzerland.
"I see no reason why I shouldn't stand [for elections]," said Assad, hosting foreign journalists at the presidential palace in Damascus.
Since "there is public desire and a public opinion in favor of my candidacy, I will not hesitate for a second to run for election," he told AFP, adding that chances for his candidacy are "significant."
After two days of heated debate, the Syrian National Coalition of opposition forces has voted in favor of going to Switzerland for peace talks scheduled for January 22.
But even moderate Western-backed political opposition group the National Coalition for Syrian Revolutionary and Opposition Forces (SNC), continues to insist that future transitional government should be "free of Assad and his inner circle," as the head of the opposition group's media office, Khalid Saleh, put it.
Assad dismissed this stance, saying the objective to oust him was imposed on the moderate opposition by Western sponsors.
Speaking about the second major demand, that the position of PM in the future transitional government should be allocated to one of the key opposition leaders, Assad labeled these propositions as "totally unrealistic," but "a good joke."
"How could they be ministers in the government?" asked the Syrian president, if all they are capable of is coming to the Syrian border "for a 30-minute photo opportunity," after which they prefer to flee.
Assad has no illusions about the conflict in Syria continuing, but he acknowledged that government troops are making a positive progress in the conflict, which has raged since March 2011.
"What we can say is that we are making progress and moving forward. This doesn't mean that victory is near at hand; these kinds of battles are complicated, difficult and they need a lot of time," said Assad, warning that if Damascus is going to lose the battle, that would mean the "spread of chaos throughout the Middle East."
Assad particularly stressed that "The Geneva conference should produce clear results with regard to the fight against terrorism in Syria."
"This is the most important decision or result that the Geneva conference could produce. Any political solution that is reached without fighting terrorism has no value," he said.
President Assad also ashed out at France, accusing Paris of selling principles in return for petrodollars from the Persian Gulf monarchies.
"France has become a proxy state implementing Qatari policies. This is also what we see happening now between France and Saudi Arabia," he said, accusing French politicians of selling "the principles of the French Revolution in return for a few billion dollars."
What's more, Assad claimed that all policies of the Western states and the Gulf monarchies working on exporting terrorism into Syria are essentially an implementation of a single policy of only one state – the United States of America.
"Ever since 2001 and the terrorist attacks on New York, there has been no European policy-making to speak of," Assad said, adding that "in the West there is only an American policy, which is implemented by some European countries."
"I don't think that France will play a role in the immediate future, unless it changes its policy completely and from its core and returns to the politically-independent state it once was," he said, rejecting France's playing any significant role in the peaceful settlement of the Syrian crisis.
You can share this story on social media: