Asia Pacific Forum underway in Moscow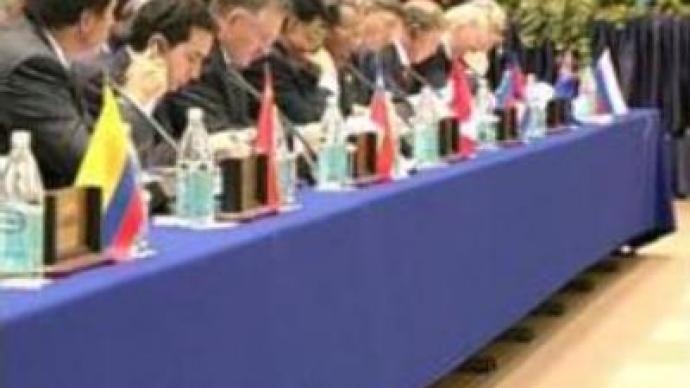 Russia has hosted the Asia Pacific Parliamentary Forum for the first time. Delegates from 27 countries are to discuss countering terrorism, drug trafficking, organised crime and the North Korean nuclear problem.
Russia took its presidency at this forum very seriously. Some preparations for the forum were made within the framework of the organsing committee in summer 2006. Moscow prepared some draft resolutions of the meeting to be discussed here.At the 5-day meeting a wide range of issues, including the possible measures against terrorism and drug trafficking, interfaith dialogue as well as assistance in emergency situations, are expected to be covered.Business co-operation and energy will also be discussed at the meeting.During the opening ceremony, at the Bolshoi theatre, Russian Prime Minister Mikhail Fradkov confirmed Russia is ready to be a reliable energy supplier to the countries of the Asia Pacific Region.
"It is clear that in order to solve these major problems effectively, it must be done by joint efforts, in close coordination with all interested parties, taking into account mutual interests. Our country, as President of the Russian Federation Vladimir Putin confirmed at the Hanoi forum in Vietnam, is ready to be a reliable supplier of energy resources and we will be serious and responsible in making use of Russian resources for the benefit of the entire region,"
stressed Mr Fradkov. The Russian Federation's Council speaker Sergey Mironov said the meeting is a milestone for Russian foreign policy as well as for Russian parliamentarians. Representatives of 27 countries are in Moscow, which shows the importance for these countries as well as for Russia to develop their relations. From its part, Russia obviously hopes to gain more influence in the affairs of the region.The Forum's activities are based on the goals and principles of the Tokyo declaration, signed in 1993.The Asia-Pacific Parliamentary Forum was formally created in Tokyo in 1993 and originally had 15 countries from the Asia-Pacific region. Since then, it has expanded and now has 27 countries as member states, among which are Russia, China, the USA, Japan, Vietnam and others.The representatives of the member states meet each year to discuss the key issues the region is facing up to. So, the annual meeting of the forum is the principal decision-making body of the Forum.
You can share this story on social media: